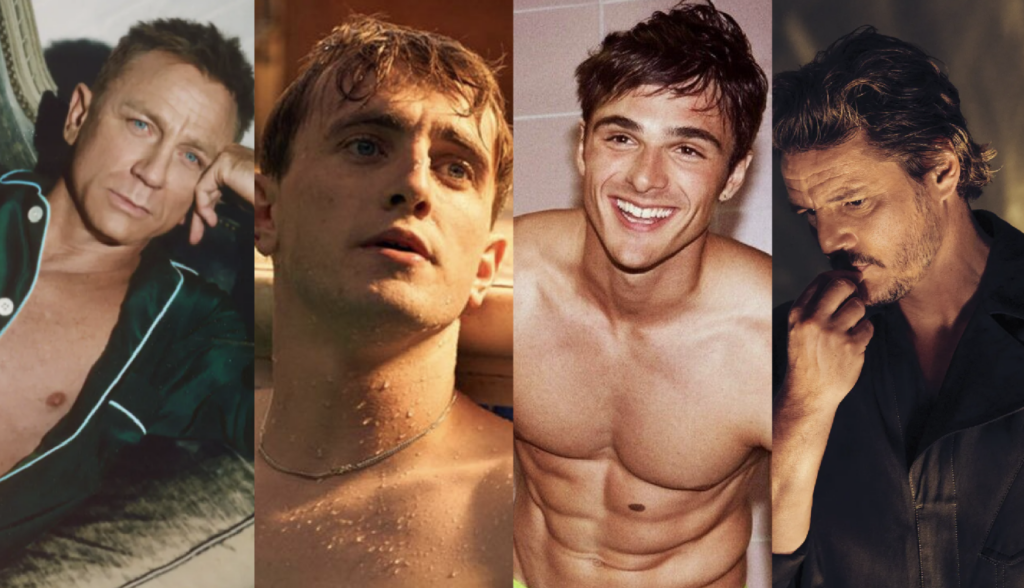 We're seeing a wave of hot actors playing gay couples or lovers in upcoming productions; although we're not seeing so many gay actors, so what they lack in representation they better make up for in full-frontal nudity.
Jacob Elordi and Diego Calva
Elordi plays Julius, a war veteran who has found himself in Las Vegas. There he meets Henry (Calva), a blackjack artist. Henry and Julius's love burns in the shadows until Henry is forced to flee. Calva has previously said that there would be "hot" scenes between the pair.
Strange Way of Life centres around two middle-aged gunmen who were once friends, and reconnect. But Silva soon tells Sheriff Jake the reason that he's come isn't to reminisce their friendship… The short-film also stars Manu Rios and Jason Fernandez although it hasn't been confirmed whether they will indeed play the main character's younger selves.
RELATED: We were robbed of a steamy shower scene between Kevin Bacon and Matt Dillon
Jacob Elordi and Barry Keoghan
Saltburn is said to be "similar in tone to The Talented Mr Ripley", Keoghan will play a college student that develops an obsession for his affluent class mate (Elordi). An attendee of the screening said, "there's a lot of nudity and explicit scenes".
Paul Mescal and Andrew Scott
Irish actors Paul Mescal (Euphoria) and Andrew Scott (Fleabag) in Strangers, from the director of Weekend. Variety reports Strangers be a loose adaptation of Taichi Yamada's award-winning novel of the same name. Scott plays screenwriter Adam who has a chance encounter with Harry (Mescal) that off-sets his daily rhythm, but is it connected to Adam's return home, where he finds his dead parents alive and un-aged?
RELATED: Jack O'Connell adds three nude scenes to his growing roster
Mescal embarks on a second gay role, as does Josh O'Connor (Man's Own Country, The Crown) in The History of Sound. Director Oliver Hermanus, said: "it is a journey through the life of America, across the 20th century and the traditions of American folk music, all seen through the bond between two men immersed in the history of sound."
Daniel Craig, who will be playing gay for a third time (after Glass Onion: Knives Out, and Love Is The Devil), will play an American expat that becomes infatuated with a younger man (Starkey).