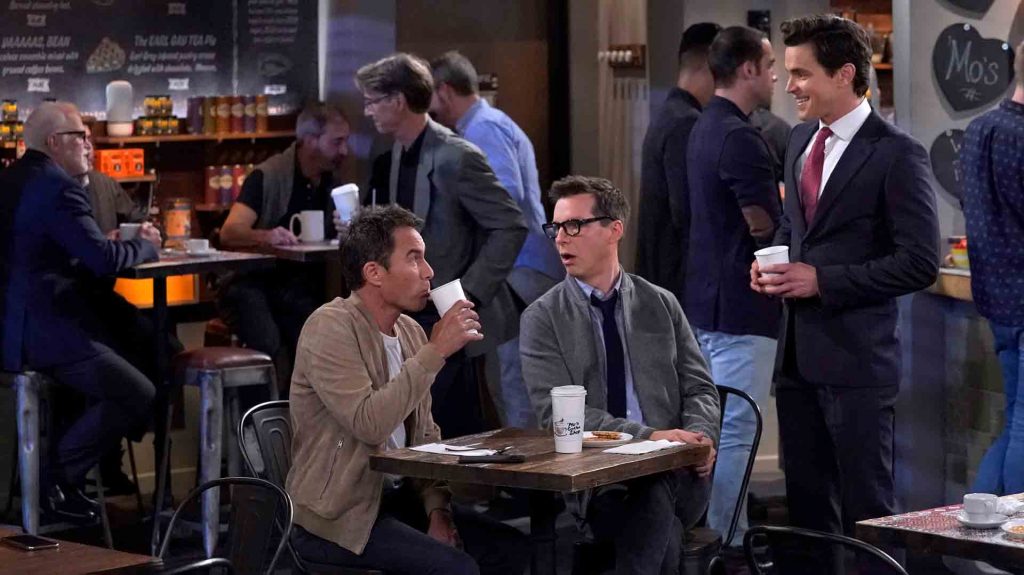 Will and Grace just gave us the best episode since their reboot with the help of an all-star cast. Leaving Grace's stale relationship with Noah on the shelf for 20 minutes, Anchor Away explored the tribulations of Will's dating life when he dumbs himself down for hunky news anchor and "high-end gay", McCoy Witman perfectly cast by Matt Bomer.
Jack and Will are daytime 'cruising' for guys in a coffee shop, where Adam Rippon plays a rude millennial barista, (and does a great job for his acting debut) before spotting McCoy. With a preference for shallow, ditsy guys, Will winds up doing his best impression of Jack: which is hilarious in its wild accuracy. We've witnessed a similar switcheroo plot-gag before when Will plays Jack's wittier earpiece in a bid to seduce sports fanatic Matt (Patrick Demsey) back in season 3, but with such a fresh feel to it, it's anything but tired.
Meanwhile, Karen and Grace take a trip to a strip club in a bid to get evidence of Stan's affair with his mistress Loraine Finster (Mimi Driver) which results in Karen giving her a lap dance, and Grace attempting a pole dance.
The episode is laced with classic characteristic gags from Jack's "indubitably" moments to Grace's tightfistedness, but what really sells the episode is the usually uptight and composed Will use jazz hands and reference Ru Paul's Drag Race. While Grace's pole dance could've been even more ridiculous (writers missed an opportunity for even more laughs), the frivolous plot feels like a comic relief from a season that was partly-constructed on and weighted with righting societal wrongs.
Just how we needed to end the year. Will and Grace is on a fall hiatus and looks set to return mid-January.