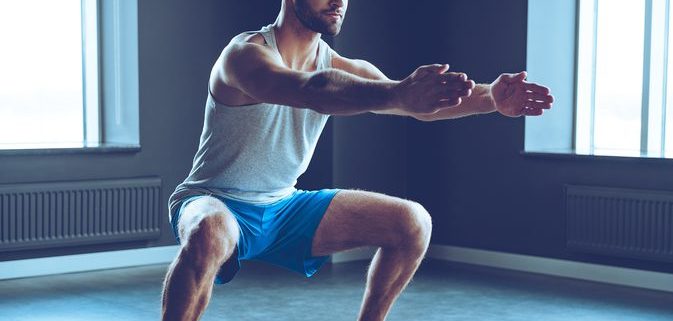 In this day and age we all know the power of a big booty, especially as gay men. But while hitting the squat rack may make out butts look good enough to bang, is it causing us problems when we get into the bedroom?
Dr. Evan Goldstein, the Founder and CEO of Bespoke Surgical – the leading private practice specializing in an elite standard of sexual health and wellness care for the modern gay male, believes so:
"For sure it can. The problem lies with most people not being able to truly isolate their glutes from the anal sphincter. With this, over time, one gets hypertrophied anal muscle and contracture leading to the 'tight ass'."
Tight ass? Great! Right? Well, not in this case. Goldstein explains, "sometimes too much muscle may lead to limited relaxation or improper function causing hemorrhoids, fissures, etc.
[RELATED: 5 Key Exercises if You Have Limited Workout Time]
When one does squats, most don't do anal dilation to allow for stretching of that muscle (which you should)."
Umm, but WTF is anal dilation? Well, anyone that's dropped a pill before, will know exactly what happens when your pupils dilate; the same principle applies to your hoop.
"I suggest investing in an anal training kit, which typically consists of 3 butt plugs in gradually increased sizes (S/M/L), as well as lots of water-based/toy-safe lube."
Dr. Goldstein advises slowly inserting the dilators for a few seconds before removing, re-lubing, and repeating. (8/10 reps, with 3 sets, 3 times a week – how's that for a workout?). After a couple weeks, you can "upgrade" if need be.
"This should be sufficient in deterring anal tears (fissures) and hemorrhoidal disease to develop – all stemming from the tightness and elevated pressure in the region," Evan explains.
[RELATED: More and More Gay Men are Seeking Surgery for Traumatic Anal Injuries]
The key is understanding the mechanics of squats, along with continued weekly anal dilation, to assist in improved defecation and intercourse, if so desired. Once again, this highlights the emerging science behind people's complete lifestyles and how it corresponds to better bottoming practices and sexual care."
Got a question about sexual health or booty care? Email us confidentially: [email protected], where Dr. Evan Goldstein will answer your question!