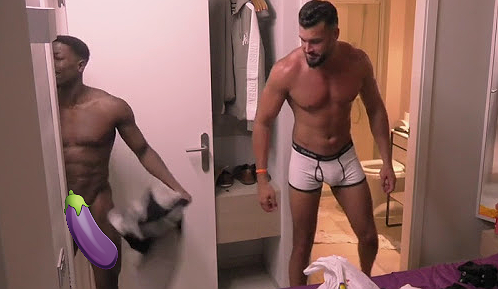 If Chris Hughes' flashing on Love Island left you with your mouth agape, you're gonna wanna sit down on for this.
Viewers of ITV's Ibiza Weekender were shocked this weekend, when newcomer Devante waltzed into the villa and removed his pants, and if they were his shoes. Revealing a 'third leg', the contestant caused an influx of thirsty (and genius) reaction tweets.
The gang were getting ready to hit the white isle and, let's just say, they weren't too fussy about privacy. Although they blurred our Rob's goods, hmmm, maybe they signed nudity contracts.
[RELATED: That Time 'Love Island's Jamie Jewitt Posed Nude for D&G]
After Devante (ironically nicknamed 'D') flashes, you can gear two farmer-like girls gushing about being "scarred for life". Ok hun, calm down, he's nowhere near your uterus.
"That's a schlong 'n' 'alf" she scoffs out, eloquently. Girl, you need to stop worrying about dick and start worrying about your diction.
Devante also boasted that he's slept with over 200 girls, which probably accounts for one in 20 women in the UK who die of ruptured internal organs.
The reality show also stars Jordan Davies, who loves to get his kit off too.
You can see the jaw-dropping video on Twitter, or by click 'play' below: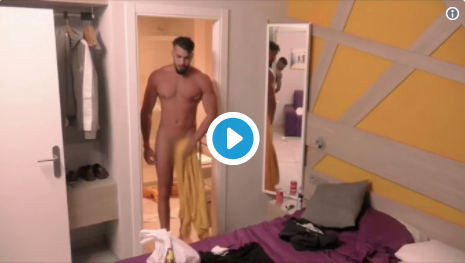 And the responses have been HILARIOUS:
Just asked my mum if that's the biggest dick she's ever seen and she said "apart from your dad's yeah" and I think I need to move out. #IbizaWeekender

— Becca Nielsen (@becca_nielsen) January 28, 2018
Sofia in the morning #IbizaWeekender pic.twitter.com/8HZsb8tNEG

— Richard (@born1878) January 28, 2018
When Your Watching #IbizaWeekender ?? pic.twitter.com/uGJ2PHaXeK

— Terri-Ann Edwards (@TerriAnnEdward2) January 28, 2018
Not been funny but that cock must have its own heart, lungs, liver and kidneys. #IbizaWeekender

— Cigs n' Alcohol (@SamuelBowden24) January 28, 2018