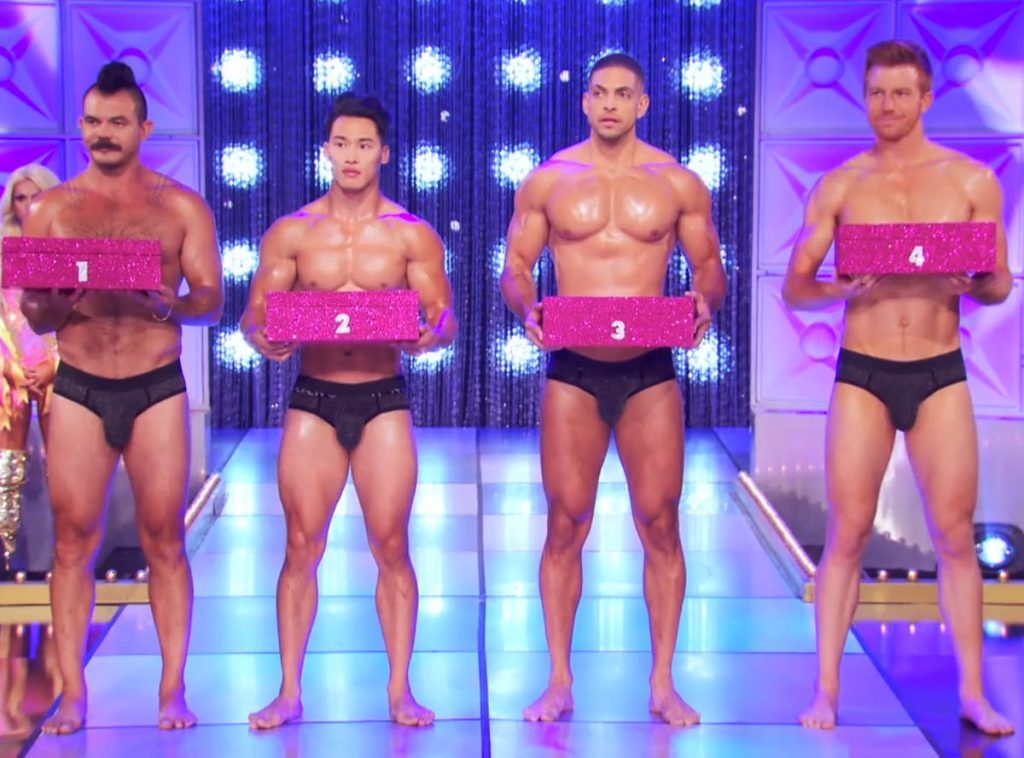 It's time to talk real about body shaming.
This week, RuPaul's Drag Race UK was put on blast for 'body shaming' after advertising for "fit and attractive" men to become part of their Pit Crew. Raising the question of just how far we're looking to take equal representation.
"Talent Talks are exclusively working on a BBC Entertainment Show and looking for fit and attractive males aged 18-35 to take part in the show.
"You will be used as models for different parts of the show and must be confident in just your underwear."
But despite a backlash to the description of how the models should look, it seemed that nobody complained that there was an age-range on the ad either. So why is this ad sizest, and not agiest? Perhaps people think an OAP would be ridiculous, but an overweight man would be body positive?
[RELATED: Inclusive Underwear Campaign Features all Body Types and Trans Men]
The way we see it, producers are simply casting for a part that they desire to look a certain way. The Pit Crew are meant to be drool-worthy representations of an Adonis, which spurs the queens to thirst over and idolise them. The same way producers cast Channing Tatum for Magic Mike and not Jonny Vegas: it wouldn't have worked.
There are lots of jobs that require you to be physically fit; the army, a ballerina, a lifeguard – and it's no different.
Models are models for a reason, the same way scientists are scientists for a reason. Scientists were born more intelligent than most, something they enhance through studying and hard work, and that's why not everyone can be a scientist. Models were born with a different kind of upper hand, but they still work hard and execute discipline to maintain it. So when a model wouldn't get a job at NASA, should "real people" get jobs as models?
Naturally, it would depend on the context. But we're all familiar with the tone of Drag Race and drag culture in general; campy, cheap and to be fair, pretty shallow. They always get audience members to dance and strip, which is why we don't go to drag shows to see ourselves represented, we go to be entertained.
To hear Ru coo "Ohh Pit Creww!" before seeing Eureka out of drag – and in briefs – would have an entirely different impact. Not to mention that Ru is probably paid for the placement of the underwear, which would be less successful if the men wearing them weren't in shape. (Although that's not necessarily true, considering bigger men may be more likely to buy on seeing their own body shape fill them out).
We have no problem seeing average men as members of the Pit Crew, and it would certainly be more in keeping with Drag Race's "love yourself" motto, but the producers shouldn't be lynched for what are basically job specifications.
Representation is extremely important, especially in the media, but perhaps we need to pick and choose our battles. We need to remember that body type is not on the same level as race or sexuality; it's not something people are born with and cannot control.
[RELATED: An Open Letter to Gay Men and Their Bodies]
Understandably, weight can be a sensitive issue for many people, and as somebody who suffered from an eating disorder as a teenager, I've witnessed first-hand just how powerful and damaging the images of the media can be, but rather than altering the face of entertainment entirely, perhaps we need to change our reaction to it.
We need to stop calling out "body shaming" whenever something unintentionally makes us feel bad about ourselves. The truth is that if we really loved ourselves, it wouldn't bother us that much. Which is a hard pill to swallow considering the influx of skinny and athletic celebrities leads us to naturally compare ourselves. But when we don't spend hours a day dwelling on how much smarter than us scientists are, perhaps we too – like society – place too much value and emphasis on physicalities.
Those who complained about this recent non-issue, are really no different than the shirtless, vapid airheads of Instagram. They too, shallowly seek physical validation from the rest of the world, but with one pivotal difference: they're too lazy to work for it.