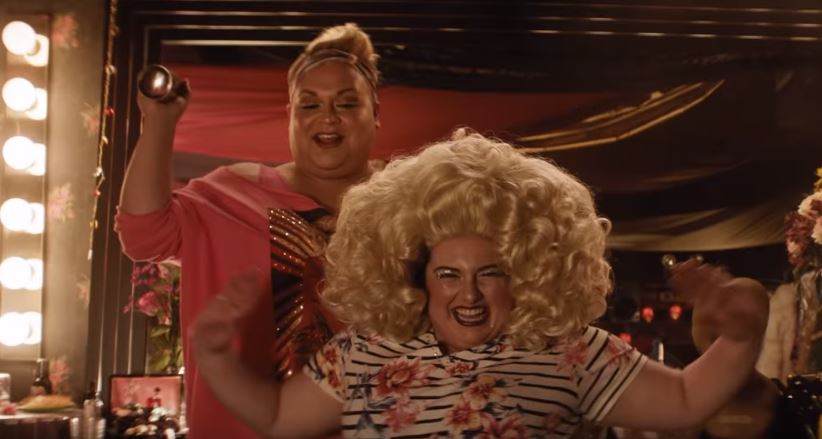 When a young overweight girl feels uncomfortable in the shadow of her pageant queen mom, and the superficial beauty standards those pageants promote, she finds herself seeking solace in a drag bar.
Netflix Dumplin was always going to have queer undertones, thanks to Jennifer Aniston slipping into the sequined world of pageantry and Dolly Parton voicing the entire soundtrack, but it's cemented when Dumplin and her friends see their first drag show. Although underage, Dumplin is allowed in because the owner knows her mom, which ironically is who she's there to escape.
The girls – like many straight women – are enamoured with the performers (which includes Drag Race's Ginger Ming), but at no point do they ever cross the boundaries of touching, heckling, disrespecting or even accessorizing the men in drag, serving as a subtle example for heterosexual women accosting drag queens during their performances at shows.
But furthermore, the drag queens become vital to the plot by taking Dumplin under their wing – this time, because they knew her late aunty (the nicer of the two sisters) – and in-turn acted as the matriarchal figure that Dumplin felt she didn't have. The queens provide her with emotional support, while also creating custom looks for her own runway after Dumplin becomes the first plus-size girl to joins the town's pageant.
The drag queens not only demonstrate the kind of bond they have with one another but the kind that they offer to other people. Beneath the layers of make-up which allows these men to be prejudged, and pigeon-holed as bitches, freaks, and solely as entertainers, we see – much like in the Drag Race workroom – that they are real people with real struggles and real emotions. It didn't matter to them that Dumplin was a woman, or not a boy in a wig, they offered compassion and acceptance; two of the core pillars of drag family values.
Being set in the south creates an opportunity for its residents or natives to address and hopefully question the attitudes towards queer people that so many have pre-learned – let's hope, at least some, take it.