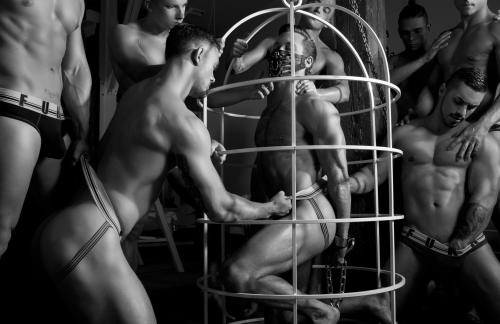 If you thought all Andrew Christian did was make undies, then you'd be wrong. The designer has been working on another project 'SEX POWER FREEDOM' that address the relationship between sex and political freedom. Giving you a chance to see their handsome models in their jockstraps (and frequently, less), Christian also raises a point in the relevance to sex to our society – and in particular the LGBT community.
Andrew tells C&C: "When I first started this book eight months ago, I had no idea how important and relevant it was going to be after the recent Presidential election." He goes on, "Creating this art and coffee table book has been an endeavor into bringing positive awareness about LGBT empowerment as it relates to political freedom in the USA and around the world." The book seeks to celebrate our sexually, which many countries – even the USA – choose to repress.
"This book isn't just sexy photos… it explains that SEX is more than SEX… it's power, it's emotion, it's creation, it's personal expression, it's political freedom…it's HAPPINESS."
We have our copy, and we can already tell you that it only gets HOTTER from here… To get your copy – click HERE.
There are Gold and Silver editions of the book also available – those you can only get your hands on the Gold copies in person on the book tour. Check here for date updates.