When Taylor Swift first came on the music scene with debut Tim McGraw, she was a country girl with no swag and crimped hair singing about other country singers in a Southern twang. Hardly our kind of popstar. In fact, we hadn't even heard of her until Love Story. And even then, that 'love at first sight' storyline smothered with cliquéd ideals of romanticism was cheesier than smegma, and if not a little nauseating.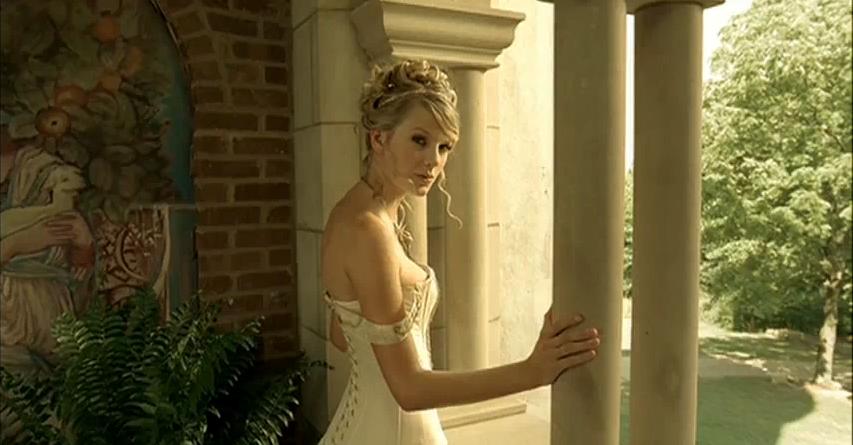 As she continued to release music, her discography read like hopeful fat teenage girl's diary, and we couldn't even name another single before the Red album was released. By this point though, she was beginning to rack up a number of high profile relationships and rumoured links to celebrity studs, despite still continuing to sing about chastity belts and other virginal crap. And we were just a little confused as to why this harlot in fishnets was hiding out in a nuns habit? And it made us dislike her. Everybody knows that your taking the dick of everyone from a Jonas brother to a One Directioner, but yet you're still pretending that you read the Bible and bathe your hymen in Holy Water? Girl, who you tryna fool?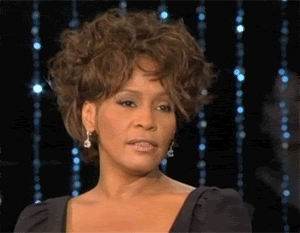 When she released We Are Never Getting Back Together Again – it was the first time we saw her as more than a 2-Dimensional dish cloth. She had passion, fiest and showed unforgiving emotion. She was still a bit of a geeky mess and hadn't mastered the art of a good pop video, but it was the first song of hers we added to our iPod and never told anyone about. And coincidentally was her first US number 1 (UK, number 2). She'd gone edgier with short hair but was still too weak to really commit to it, and wore a wig… baby steps, we guess. I Knew You Were Trouble, was her next earmark, another big hit, and even catchier than her last – but we were still scarlet for liking it. And she hadn't pushed herself out of that 'guilty pleasure' category yet.
As she began picking up media coverage (for her trysts more so that her talent), it was guaranteed that she'd make an appearance at every award show. And what do you know, the girl had developed style. Consistently wowing at every ceremony going from the VMAs 2012 to the Brit Awards 2013. The outfit choices were still pretty tame, but thankfully she'd thrown out those cowboy boots with the annual invites she still receives to the Country Music Awards.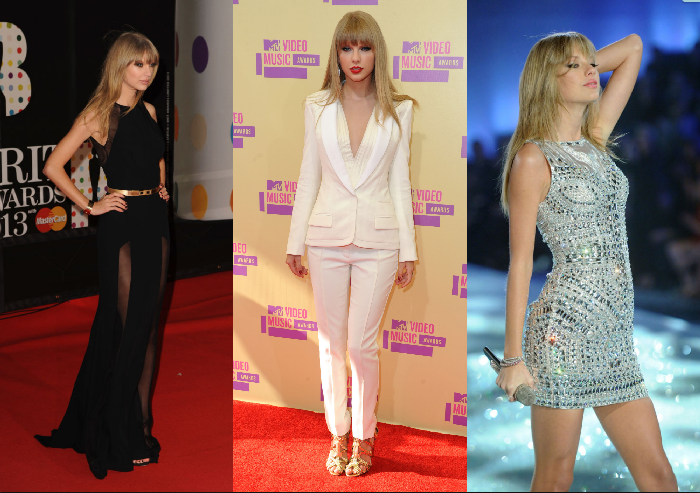 OK, so she may have still been a sket in denial, but at least she looked amazing. And not that we have anything against skets – most of our friends are – but at least own it, and stop trying to pretend you don't like the D as much as the next gay man.
When rumours began to circulate that she was a bit of a bitch, we weren't really surprised. Slutiness and bitchiness go hand-in-hand like hangovers and Big Macs, or Michelle Williams and backing vocals. So when this GIF of her reaction to Harry Styles' speech first appeared…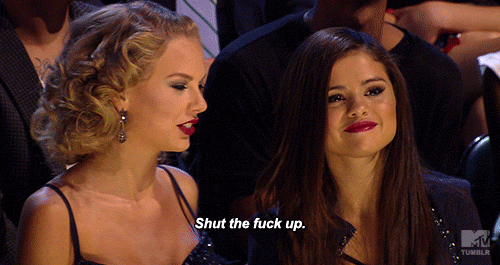 …we realised that she was actually quite fierce. And perhaps as she was growing up began to care less and less about this flimsy facade she was probably forced into carrying around by her Christian parents.
And then there was this one…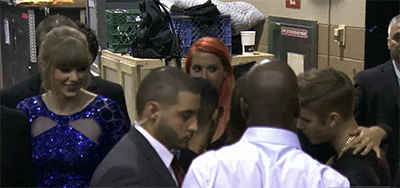 Because we hate it when our friends convey public displays of embarrassment too.
She was then quoted saying that "[the media] can't poke fun at me if I make the joke first". And we had to agree with her. Finally she was being honest, and owning the slut-shade the media gave her – which to be fair – was probably only because she so strongly tried to contradict it in the beginning.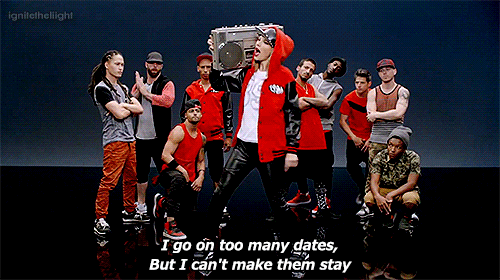 She had a sense of humour and this came through again in Shake It Off that got number 1s across the world. Even though she pursued the tired trend of twerking, and continued to make our insides quiver with her over-the-top acting and rigid attempts at dancing, at least she was involving herself in the mainstream topics of conversation. Along with the likes of Londoner Lily Allen who has more swag in her armpit hair than Taylor Swift has altogether.
Then came Blank Space. We love this song. Totally playing up to the crazy bitch the media make her out to be when really she's just a normal girl that dates lots of guys and probably has one of the most enviable sex lives around. She even comes across as a bit of a man-eater – which she doesn't have to do by releasing songs called Dirrty or Maneater. And it was the first music video of hers we actually wanted to watch more than once. Cringe-worthy acting was still in check but boy had she increased her budget. Her outfits were on point, and she was even lipsing some buff ting before throwing his ass away and getting a new one. Gwan gal.
Then that performance at the AMAs. Vocals were kinda shaky but she pulled it through in the end. When she throws the man through the air, she won. All over. But it was that stare at the end…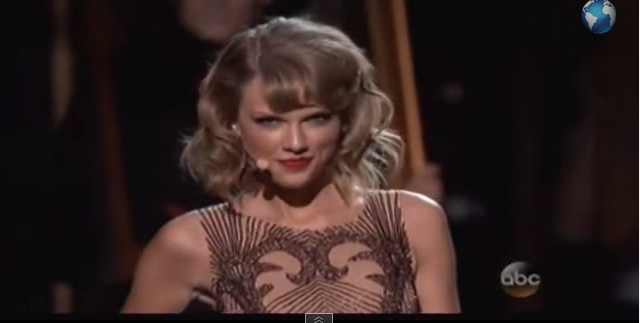 Pure sass.
We can't wait to see what she's doing two years down the line. Maybe a duet with Rihanna puppy-popping in diamond encrusted G-strings?