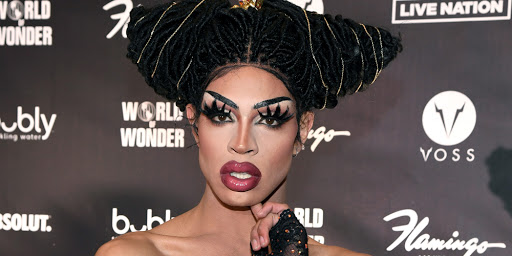 RuPaul may have built a multi-million dollar empire by putting drag queens into the mainstream, but that's the thing about working with drag queens: they aren't afraid of the drama!
Season 11 winner Yvie Oddly is the latest to – erm, drag – her mentor on the show, claiming that RuPaul "never made contact unless he smelled an Emmy moment". The quote comes as Oddly congratulates her season-11-sister Brook Lynn Hytes on the launch of Canada's Drag Race, of which she's a host.
"Except for [Brooke Lynn ]… she was waaaaay too relatable and sweet and stunning for my approval."
At which point a viewer of the show chimed in:
Maybe I'm just biased because our host never made eye contact unless she smelled an Emmy moment ??‍♀️

— Yvie Oddly (@OddlyYvie) July 3, 2020
Oh. The shade lept OUT.
You'd think that as an alum of the show, Oddly – who very recently returned for an appearance on All Stars 5 – may tread more carefully, but she probably feels quite secure in her ability to bring an Emmy moment at this point.
Everybody Say "Rude"?
Just recently Tyra Sanchez has been on the war-path, tweeting that she "wants nothing to do with [Drag Race's] toxic community". Furthermore, she has branded the show and racist, before posting RuPaul's phone number to Instagram, encouraging fans to call him in regards to her alleged unfair treatment.
Back in 2018, Pearl said in an interview: "I turned to RuPaul and said, 'Oh my god, thank you so much. It's such a honour to be here, such a pleasure to meet you, you have no idea."
"She turned to me and she said: 'Nothing you say matters unless that camera is rolling.'" She also referred to the encounter as "heartbreaking" and "disrespectful".
Divina Di Campo seemed to confirm this rumour when in a chat with the Drag Race UK queens, she revealed: "if the cameras aren't rolling, you don't speak".