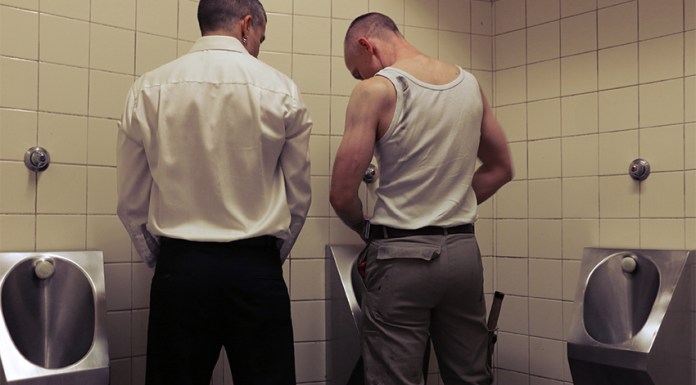 Don't you hate it when you're bursting for a piss and there are a dozen guys pleasuring themselves in the way?
That's exactly what happened to one guy – and his six-year-old nephew – recently when they attempted to use a public bathroom in Edinburgh, Scotland. The Mound toilets are a renowned cruising spot for gay men, unbeknown to this passerby who found himself amidst a urinal orgy.
Although visitors are perhaps used to having their backdoors banged, it was the cubicle doors that were getting banged on Wednesday afternoon – and this time, by police, who raided the toilets shortly after 3pm.
"I totally understand that cruising happens in every city but to do it in the public view takes it to another level," said the 32-year-old supermarket worker. He "quickly walk out", before his nephew saw any of the lewd activities.
[RELATED: A Brief Evolution of Gay Sex Trends]
He reports that one man was on his knees, while at least 10 guys surrounded them pleasuring themselves. Police were then seen questioning two guys outside, before a crowd of guys scurried out like randy mice, as they entered the toilets.
"It really concerns me that if a child not with an adult was to go into the toilets what situation is that? Children go back to parents and say they've seen things. Wouldn't that then make a parent think someone intentionally indecently exposed themselves to a child?" he fairly questions.
Another witness said: "We used to always keep telling guys to stop the cruising. There is a sauna for that but they don't listen. I'm gay myself and kind of embarrassed by it."