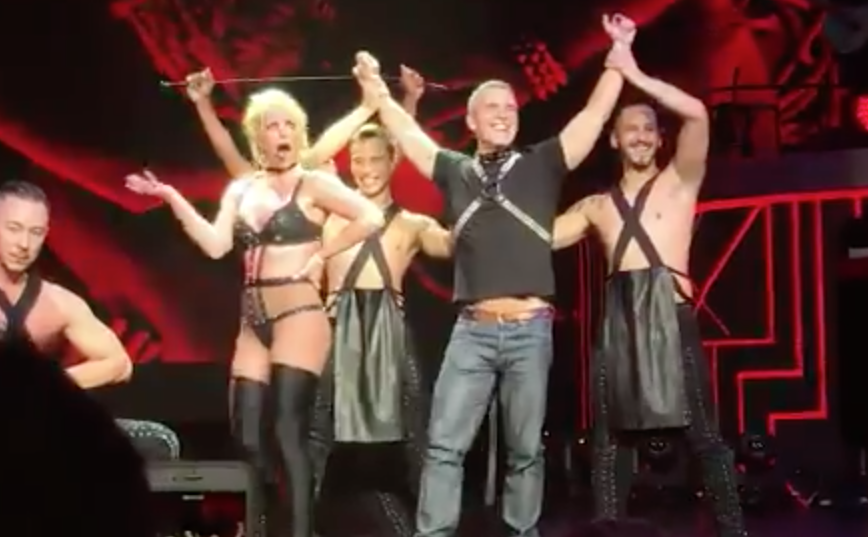 Britney Spears pulled Andy Cohen up on stage with her last night as part of her Freakshow routine, and appeared to forget his name.
The segment of her Piece Of Me tour usually involves bringing up an audience member and at last night's show that turned out the be the Real Housewives producer. And the brash TV host was clearly very excited.
After the performance, Britney said: 'I think you all know who this is… give it up for him!'
Britney walked @Andy across stage for "Freakshow" and then said "Ow… ears… he's loud!" and it was incredible. pic.twitter.com/Y2SSB5DiYT

— T. Kyle (@tkylemac) July 25, 2018
Him. You know? That annoying guy from Bravo? Yeah… him. 
Then as Andy fist-bumps and shouts as Godney signs a t-shirt for him, she says: "Oh my goodness. Awesome. Cool. Thank you!"
Which loosely translates as, "uh-huh, whatever, you can go now."
Then as he is walking of stage she goes, "Ow! Ears… he's loud!"
Watch the entire performance below:
"I don't know her." – Britney Spears to Andy Cohen pic.twitter.com/VraFwW9UgB

— Brittney (@brittneylately) July 25, 2018