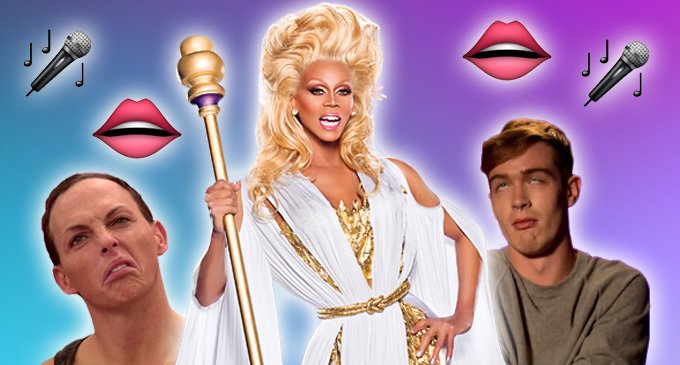 "SHE DONE ALREADY DONE HAD HERSES!"
You know when you're watching a lack-lustre  lip-sync performance on Ru Paul's Drag Race (not mentioning any names, Laila McQueen) and you wish you're just like, gurrrl I could do better than that in my sleep. Well, now's your chance. We've come up with a totally original recipe and format for you to werk that runway and mime like Britney (well, maybe a bit better than that).
Cocktails & Cocktalk are teaming up with Ku Bar to bring you a fierce weekly lip-syncing competition, 'GET LIPPY'. Every Sunday, four contestants will take part in a competition to snatch the crown for London's best lip-service. Oh, we thought we gave that? 
Each week contestants will prepare a lip-sync of their choice, (y'all better bring it, mmmkerrr!) The judging panel is made up of hostess and drag artist Jacqui Swallows, Nieko (Ku DJ & Host), Anthony Gilét (C&C) and a different guest judge each week. They'll then deliver their feedback before eliminating two queens. Please note that bribery and sexual favours will get you errrwhere, dahling.
The two remaining queens will then go head-to-head in a lip-sync to a song they've previously been asked to prepare for. The winning queen each week will go on to the finals. The winning queen will get promo-a-plenty, a monthly slot at Ku Bar's Cabaret Sundays, plenty of bubbly, make-up, wigs, and more TBC. 
And each week the best lip-sync will be posted on CocktailsandCocktalk.com. 
So what y'all waiting for? Fill out the short application form below – with the song you'd lip-sync for your life to in the comments section!
The first show launches on February 12th. 
[contact-form to='[email protected], [email protected]' subject='Lip-Service'][contact-field label='Name' type='name' required='1'/][contact-field label='Email' type='email' required='1'/][contact-field label='Comment' type='textarea' required='1'/][/contact-form]