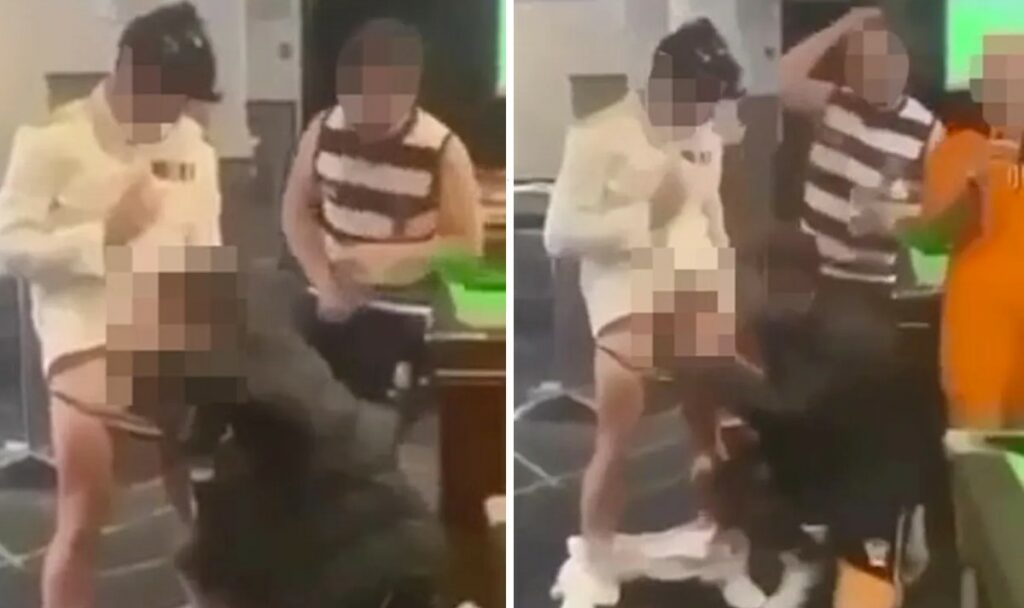 Two – presumably straight – footballers from Glen Waverly Football Club, Australia are being punished after a video of two teammates engaging in a sex act made its way onto the internet.
During Mad Monday celebrations, one teammate lost a bet to another and in-turn sucked him off (ever so briefly) as a loser's forfeit.
In the explicit video, the player doing the sucking gives a thumbs up to the rest of the pub that cheer in response. What else do you do when you see a lad getting his dick sucked by a pal?
RELATED: Rugby player was caught naked with teammate giving him a hand
Club president Matt Holland said the club had offered support to the men who featured in the video, although to be honest, I don't think the whole team need to nosh him off too.
'The individuals involved, along with the broader playing group will be both disciplined and educated and if need be, counselled in the type of conduct expected by members of our club,' club officials said.
'Along with the physical and emotional impact this has had on the families involved, club members, players and the wider community.'
The emotional impact on the wider community? Screaming. Who died again?
RELATED: That time rugby player Jackson Garden-Bachop encouraged you to jerk off to his dick pics (NSFW)
The story and its retelling are laced with homophobia. Wayne Flowers of The Daily Mail called it "vile footage" as though sportsmen don't do far more disgusting things involving women. Examples? Sure. The Leicester City group sex video in Thailand them degrading Asian women. Or the Ayia Napa orgy of 2000 with Frank Lampard and Rio Ferdinand. The Sunderland sex party. The British rugby team that destroyed a cruise boat on the Thames with wild sex acts and defecation. Alisson Becker snorting coke and having a threesome. We could go on…
Why do people act like football is this respected and righteous game? Who exactly is offended by this incident? The fans who riot and fight when their team loses? Grow up.

WATCH: David dons his football kit