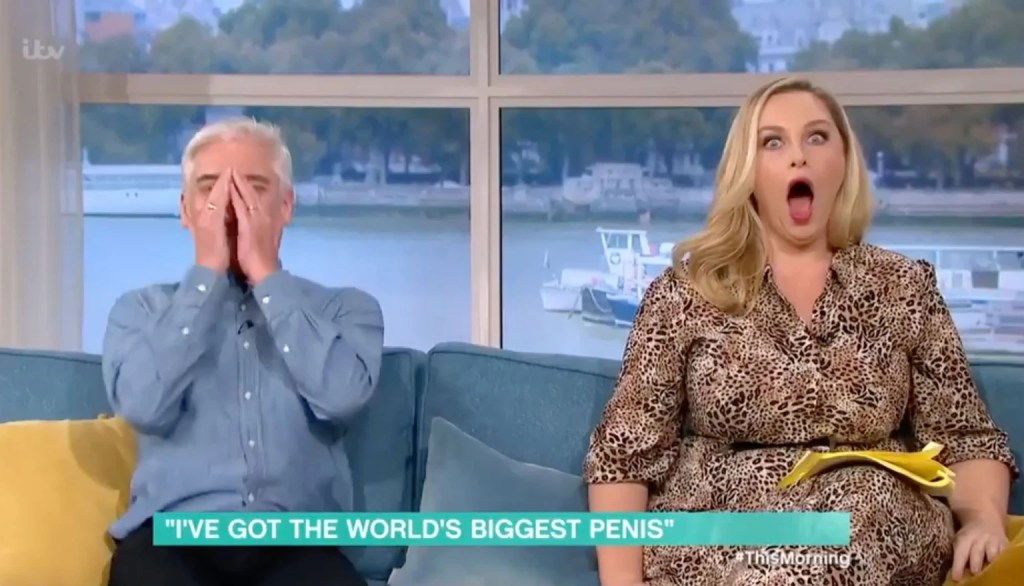 Presenters of This Morning got a shock, (or in Philip's case, fanny flutter) when they met the man with "the world's largest penis". We're not saying that its a lie, we're just saying you haven't seen every cock in the world.
Jonah Falcon watched as Josie Gibson (OMG it's 'er from Big Brother!) and Philip Schofield (recently-out gay) compared the measurements to a tubular container and an eggplant.
"You are a walking aubergine", claims Philip. Before, Jonah pulls out a photo to show Josie and Philip live on air, and their reactions are priceless.
RELATED: 'Love Island's Chris Hughes has his Balls Checked on Live TV [WATCH]
When asked if his appendage "hampers" him, Jonah goes on to talk about how studios are usually "very conservative" (unless you're auditioning for Weinstein, obvs). Saying that he couldn't get parts in films because of it. Um, yeah that's it.
Jonah goes to confirm that he's been asked "thousand of times" to show it off. But Phil digs a little deeper and asks what its like to meet a partner (Jonah is bisexual) beyond sex, who is daunted by his size.
Jonah replies that most people know he's hung before he shows them because of "the way he carries himself". I mean, he really does just ooze BDE – move over Chris Evans. Unless he means hobbling. Adding that the big piece gives him a "lack of self-consciousness. It's one thing I don't have to worry about."
Hmm, perhaps he's let this get to his hair head a little. No disrespect to Josie, but we really needed Alisson's cackling for this one.
He adds that he's been stopped by airport security who thought that his donkey dick was a tumour. Yikes.

WATCH: Straight guys react to gay guy's monster cock