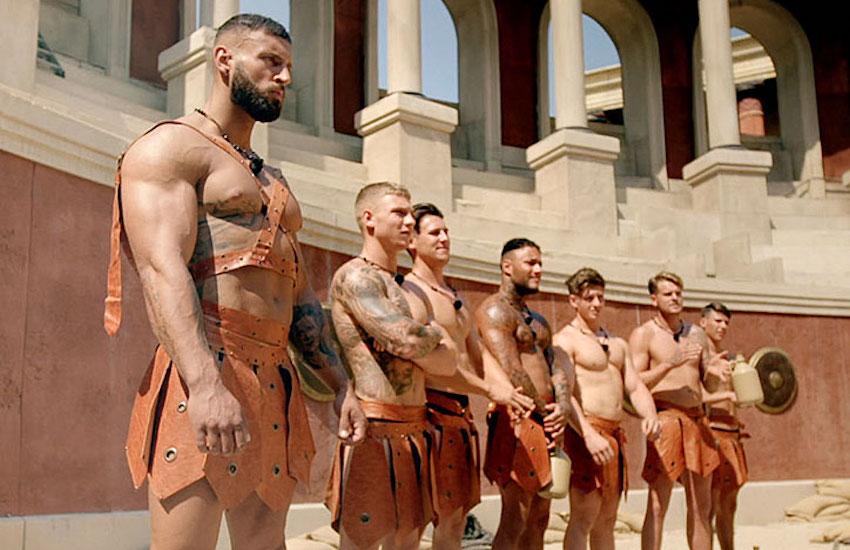 Are you a cum-guzzling slut? Well, pig-shamed is the last thing you'd have been back in Roman times; in fact, you'd have been hailed as "brave". Which with that much lactic acid in your stomach is probably still true now.
Actually, any guy who performed oral sex on Roman soldiers was seen as 'manly'. Well, just call us Wreck-It Ralph. Masculinity was also a trait associated with hung guys. (Although perhaps the same perceptions are not bestowed upon the packin' Polly-pocket twinks of today).
RELATED: NSFW: Former Army Lad Ricky Lintott is Now a Recruit for OnlyFans
Clearly, Ancient Rome – around 753 BC – didn't carry the same stigma as it did later. But rather gay sex was seen as a bonding experience which ultimately strengthened the force as a unit. And while gay sex was enforced onto some as part of slavery, the acts were partaken in (consensually) by those at the very *top*.
Although we can't say for sure whether Ceaser or Alexander the Great were actually tops, they were certainly into sex with men. However, while this might sound like a wet dream, bottoming was socially unacceptable, and a hole role that was predominantly filled by "entertainers", prostitutes.
If you were a Hastatus; one of the youngest and poorest men to fight on the front line, you were expected to prove your worth through sword-fighting, combat, and swallowing nut. Semen was also perceived as spiritually containing the essence of a man, and also important nourishment for the body. Although, we don't think we'll see Delia Smith promoting any time soon though.
Apparently, the Hastatus were expected to empty the sacks of at least four men each morning. Well, they do say that breakfast is the most important meal of the day. It's said that if he did not swallow – and instead spat – he would be executed. How's that for 'giving head'?
RELATED: Young, Hung, Full of Cum
However, it was only the hung soldiers which got blown, with a minimum of 8 inches required to "feed" the Hastatus. Which considering they were to wait 10 days before blowing their load, we're guessing was the equivalent of a milkshake.
This all had to take part within the 15-20 minute window before the sun fully rose. Damn. Like a slutty – but deadly – version of the Crystal Maze.
The rewards of completing the cum-eating contest were that were viewed in a new respectful light, and you got to keep your head.
Jeez, not even a Rennie?!