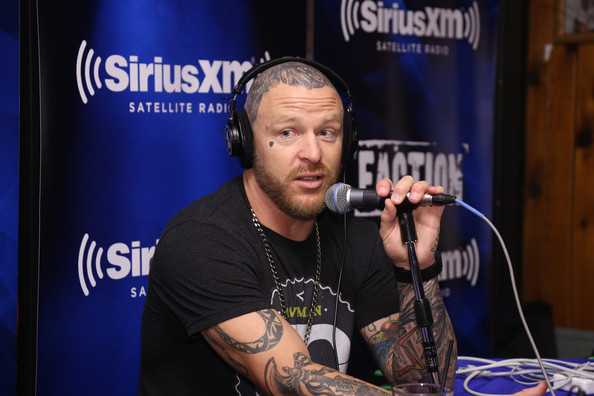 Former MMA fighter Jason Ellis has written an essay about bi-erasure by the LGT within the community, for The Advocate.
He begins, "My experiences with the LGBTQ community have been, up to now, almost exclusively sexual in nature. Hook-up sites. Sex clubs. Group sex with men. I've done it all–well, almost all."
Great start, I'm hooked! Honestly, I don't even need to read the rest of the essay, but I will after I take a break with his these full-frontal GIFs [nsfw], which show Ellis getting naked on Howard Stern's radio show.
He goes on:
"I'm a bisexual man and I'm married to a woman I love. I'm lucky enough to be able to have sex with men as well. I find diverse people of all genders sexy and attractive. But I don't want my inclusion in the community to be just sexual. I want it to be deeper. I want LGBTQ friends. I want to feel like I'm part of the community. After all, "B" is the third letter listed!"
Ellis goes on to explain that he doesn't feel welcome within the community right now, and how the men he hooks up with tell him his attraction to women is just a phase. Ellis, who is also a radio host of his own talk show on Sirius FX, married his wife in 2017.
"I have a tough exterior. I fight MMA. I'm a skateboarder. I'm tattooed from head to toe. But if you get to know me you know I'm a sensitive man. And the rejection of me being a bisexual man by other LGBTQ people hurts.
"Like most people in the community think the B in LGBTQ just shouldn't be there, or is a placeholder until I finally tell "the truth." I find it perplexing. In the last decade we, and indeed society, have come to the understanding, if not the acceptance, that gender is a continuum. So why wouldn't sexual expression and gender desire be on a parallel continuum?"
Ellis goes on to say that he's not looking for pity…
"Rather, maybe just a bit of empathy. I would like to be part of the community. The 'B' was put there for a reason. And if you're going to use it, then I ask the community to make more of an effort to find people like me and include us in the community and at your events."
Signing off, "Too many of us long to be in a community that will have us. Please be a little more welcoming, show us a little encouragement, and for fuck's sake, believe me when I tell you I am equally attracted to men and women."