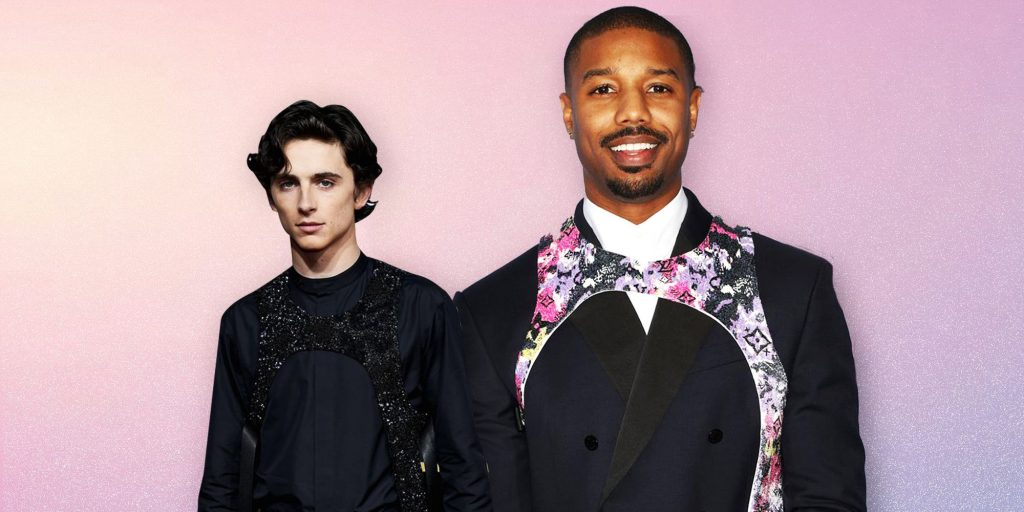 They may have come from the grotty after parties and sex-positive clubs of horny gay men, but it the fetish-wear staple is having its 15 minutes.
Adam Rippon turned heads last year when he wore a Moschino leather harness to the 2018 Golden Globes. His daring look was met with both praise and question. Half of us loved it (raises hand), and the others thought it was a cheap and tacky move: well the jury is no longer out, as Vogue just declared:
"The red carpet harness is here to stay."
The statement comes after Call Me By Your Name's Timothee Chalamet walked this year's Golden Globes in something similar: a bedazzled harness. (Although a statement from Louis Vuitton clarified it was, in fact, an "embroidered bib").
And then, following that, Michael B. Jordan sported an astrological-print bib/harness from the same designer at this year's SAG awards. Well, we're not sure that harnesses are here to stay, but Vogue could hardly ignore this as a trend at this point.
Although members of the gay community will likely be pressed to see heterosexual celebrities (Jordan, Chalamet) emulate queer culture and call it something different, not to mention the bears who basically live in their harnesses. Which can be frustrating, but it's nothing new.
But we love S&M inspired fashion so are here to see where it goes! Fisting gloves at the Met Gala? Gimp masks at the Tony's? Or maybe just a ball-gag at your next big charity event…