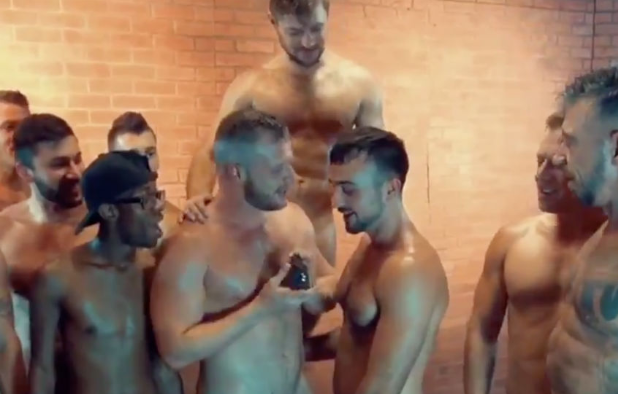 It can be difficult to know when or how to propose to your boyfriend, as you want the moment to be just right! You can do it in front of the Eiffel Tower and go down in history with similar notoriously unoriginal proposals; you can do it casually over dinner and constantly wonder if you've done enough; or you can do it straight after your first gang bang together.
Well, it certainly wouldn't be getting knocked for its unoriginality.
Having spent an entire day on his knees, porn star Brian Bonds thought he might as well pop the question while he was down there. Him and his partner Mason Lear had just wrapped up their first bare back group sex scene, but there was one more ring that Lear was to get his finger into.
'Well, this is the end of our tour and I can say that this was probably the best day that ever happened between us. And I'd love to do it over and over again, but there is one difference that I want.
'I want you wearing this,'
Before pulling out a ring that wasn't for his cock. Lear lept at the opportunity and their co-stars cheered them on.
See the NSFW proposal herr'
Different strokes for different folks and all that, but is it just us that find it slightly odd that the "best day that ever happened" between them, involved ten other people who's real names they probably don't know. But you know what, as long as they're happy and got the attention they desired, we salute them.
We are finally headed home!! So ready to be back after all this time, but coming back knowing that @MrMasonLear is going to marry me someday soon (after lots of planning) makes this the best trip ever. See y'all in Vegas! pic.twitter.com/3Ep15LJz6X

— Brian Bonds (@BrianBondsXXX) July 12, 2018
Bonds had this to say to a tweeter who responded in disgust:
"This is how I wanted to propose to my future husband, with my friends around after and crazy fun time at the end of a month and a half long tour. I don't give a buck-tooth fuck what conservatives (or anybody) thinks. We fought for our rights to love and marry who we want.
'The way I propose to my fiancé is my choice. And as porn actors, I felt this would not only be special to us, but to the industry. If this is going to be used as fuel to take away any rights we have, any conservatives can suck my dick. I charge extra for y'all btw."
Well OK! Tbh wit' y'all, when we sitting here still waiting for a text back, who are we to just this hun who just dick-hopped a dozen men and then limped straight into a marriage? ICON.