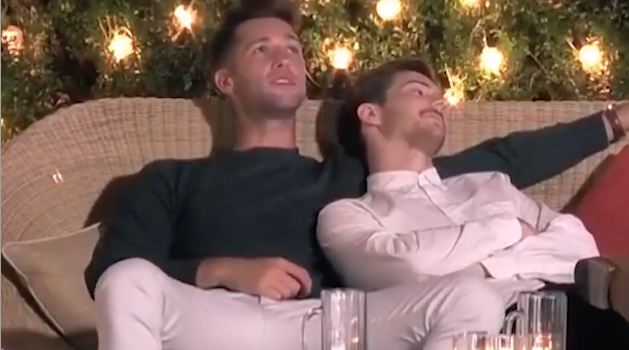 "The perfect person for me," starts Joe. "for want of a better term, and it's a very controversial term in the gay community particularly, I want him to be straight-acting."
The 26 year-old graphic designer has been set up on a date with football fanatic Jack (who appears to play for the Two Brewers).
In the clip, Joe goes on to express how being in the closet affected him; "It was just so fucking lonely," he tells his date.
"There's a lot of cliff edges in Croyde. And I was sitting on them a lot more than I should have been," in his confessional. DEEP!
[RELATED: Is the Gay Celebrity 'First Date' the Most Awkward EVER?!]
Also can we clock how Joe went from a gravely "start of the football season mate, how good is it?" to proposing a "wander down the Thames" while seemingly conducting an invisible orchestra.
Anyway. After exchanging stories about how fucking awful it is to be in the closet, and how unique it is to be gay and like football, the pair seem to hit it off reeaal well with both dates explaining how special it was; gotta love a bit of first-base on the patio furniture.
They mostly received an outpouring of positive responses: "So sweet, both lovely people, hope they are happy together," writes one commenter.
"They are perfect for each other!" wrote another.
But not everyone was swept off their feet by the clip.
[RELATED: Gay Guy on 'First Dates' Says Men In Heels Makes Him "Embarrassed to be Gay" – REALLY QUEEN?!]
Nick wrote: "I'm kind of glad these two beige wonders found one another, so they keep their self loathing homophobia and misogyny away from the rest of us in the community when they get their flat in Clapham. Although they could do with unlearning their bullshit first. And these two ain't even straight acting anyway, "mate"."
SCREAMING.
While Andrew went in: "I'm looking for someone straight acting" says the camp queen making camp jokes about taking him up the Thames whilst lying on white skinny stretched jean lap. NO MISS VANJIE!"
Again, dying.
To form an opinion watch the clip for yourself, and sound off in the poll below:
(If you can't see a video embedded, click its title)