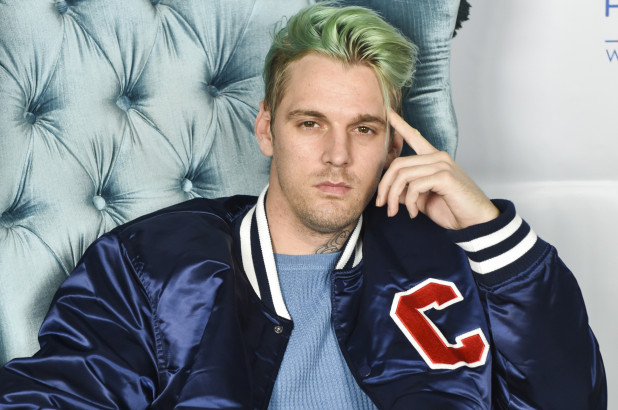 Aaron Carter is talking about his sexuality, again… But is anybody listening?
He's really rinsing this angle for all its worth, after penning this big story on social media to his fans (?) about starting to find men attractive as a teenager, and recounting an incident that happened with a guy at 17.
Naturally this was all around the time of his DUI and attempted comeback; the perfect statement to deflect from negative press and promote an upcoming project.
[RELATED: Aaron Carter to Star as Karen's Car-Crash Cousin on Will & Grace]
A day after his 'big announcement', Carter's girlfriend dumped him. Quelle surprise? No. But hey, you lose a girlfriend, you gain a gig.
In an interview after that, Carter said: "I'm a single guy again, recently came out as bisexual, so that's who I am," and performed at a gay bar in his home town.
Now, he's saying it was all "misconstrued". Ugh, YAWN.
An interviewer for Hollywood Life's podcast asked if he would date a man, Carter replied: "Yeah, no. It was more so just a story that happened when I was like 17 with somebody, and I can find men and women attractive, but when it comes down to it, I think it was a little misconstrued."
The only thing "misconstrued" was Carter's belief that anybody actually cared in the first place; sure, we read about it, and commented. But did anybody buy… *Google searches*… Fool's Gold?  I think the fuck not.
Perhaps Carter was on his way out of the closet and received so much backlash from those closer to him, that he went sprinting back to Narnia. Maybe it was all just an elaborate PR stunt crafted with as much thought and planning as his decision to take the Tequila-soaked wheel.
Either way, Carter's choice of using sexuality as a marketing tool; by claiming to be bisexual when he isn't, or denying he's bisexual when he is, is mocking of our community.
[RELATED: Fit, Ginger Olympic Pole Vaulter Shawn Barber Comes Out as Gay]
Cut to Carter coming out (fully) a few years down the line, (probably promoting some basic memoir like "Finally Living As Me", where he divulges the truth).
Gay, straight, mormon, whatever; the discussion of Aaron Carter's sexuality is officially cancelled.