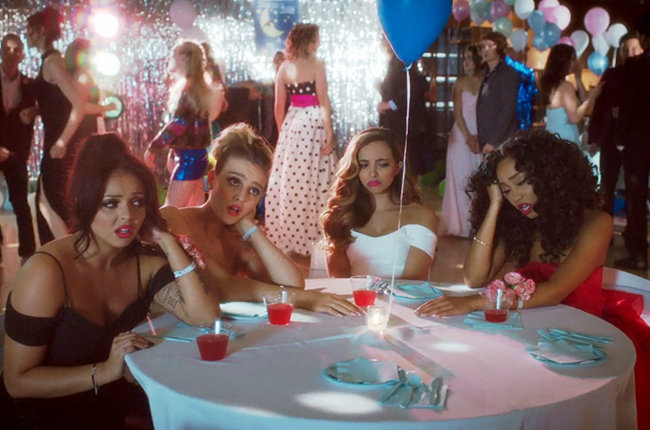 After Black Magic, it seems our favourite X Factor winners are determined to build up their following of teenage girls, with yet another video set around a high school. *Rolls eyes*. Still though, you gotta do what you gotta do and though we ain't never been no fans of PG-13, we do still love the song. Maybe it's because we spent the whole of our teenage hood single, secretly bashing 'em out over boys in our class.
Here's the DL: It's prom time, and as the headmaster scolds: "NO CANOODLING!" Girl, please. You know prom is half the root problem for teenage abortion. And at least a quarter of these hoes getting gunned out under that Lipsy dress.
Jade is putting out 'cause the man has a car (who hasn't done that before), Leigh-Anne's dating a basket ball player because he's probably hung and will get scouted for the NBA. Meanwhile, Jess is rejecting the alcoholic punch (pretending she doesn't wanna down it and get white girl wasted), before giving a boy a handjob in the cinema because he gave her a corsage. And Perrie is salivating over a dude that has muscle tone (unlike her ex). Then they all get a bit desperate and depressed because they know none of them are getting dicked in the disabled bathroom.
What's even more UH-MAZING 'bout this, is that while they're pretending they all still have their hymens in tact, the lyrics are actually kinda freaky. Gwan wit' yo' bad selves, Little M.