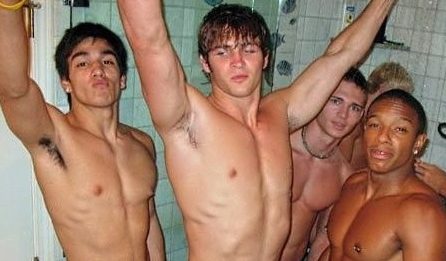 The locker room is one of the most testosterone-packed places on earth, and most of us can't get enough of them!
Besides the discomfort and anxiety they stirred as a teenager, that was mostly balanced out by a glimpse of dick that later became weeks worth of wank material.
QUIZ: Grower or Shower? [Locker Room Edition]
Its also a breeding ground for straight horseplay… so make sure you do(n't) drop the soap! We're not sure exactly why, but we reckon it's because straight men are more obsessed with penises than they let on.
But regardless of whether you're someone that sees the locker room as a place filled with fear, or someone that performs oral sex in Virgin Active, we hope you can appreciate it visually…
WATCH: Guy playing in locker room showers gets caught