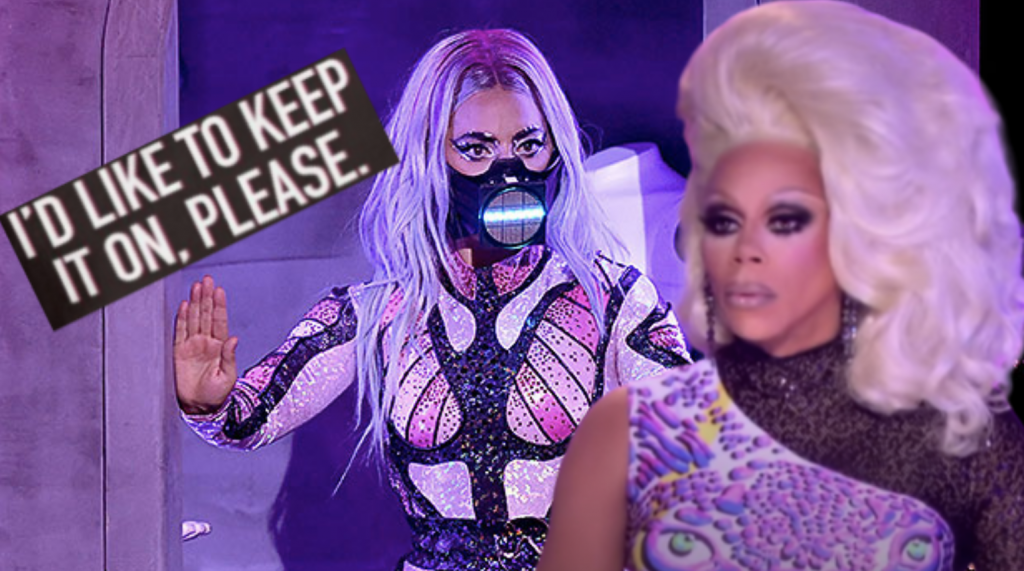 Last night, (30th August) saw the notorious VMAs return for their annual round-up of pop's brightest stars, a handful of which perform on the night.
We don't think anyone was duped into thinking that this year's ceremony would be the same as last year's, but headliner Lady Gaga definitely caught our attention with her 10-minute Chromatica medley she performed… behind a mask.
Lady Gaga, this is an international live performance of the year's biggest gay anthem, we need to see your lips.
I was immediately transported to that Drag Race stannd-off between RuPaul and a nervous Valentina quivering behind a face mask.
Honestly, at first, I thought it was some kind of kooky neon-flashing way of turning the pandemic into a fashion statement. And it was… but it wasn't actually until Ariana Grande emerged that I realised there's still an epidemic going on.
It makes sense for Gaga to wear a mask if she's working with dancers that aren't in her bubble, but the question is, would we rather have backup dancers that we barely see or Lady Gaga's mouth, the source of the entire vocal performance.
Ariana left the stage hand-in-hand with Gaga, so why spend the rest of the song socially distanced? And why wear a mask when you're at the piano on your own?
It's a live performance, what part of that do you not understand?
Gaga urged fans in her speech to wear a mask, claiming it is a "sign of respect".
While we're here you can watch RuPaul waiting for Valentina to remove her mask for five-minutes straight: