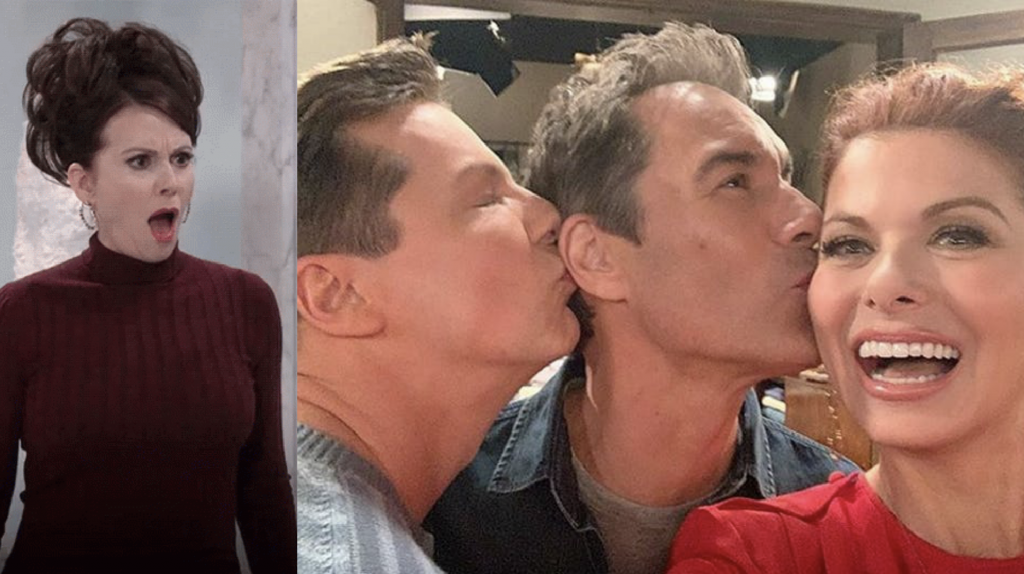 Just as it were announced that Will & Grace would land on our screens for the final season next week, we hear that Megan Mullaly who plays Karen Walker will be missing from part of it.
Although Just Jared stated it would be "several" episodes, it appears that will be just two, according to TV Line. Though no reason has been shared yet as to why Mullally took the time off, although this will do nothing but feed into the alleged fued between Mullaly and Debra Messing (Grace).
It's like when you hand your notice in somewhere and then don't a single fuck for your two weeks notice, Karen was like can't be bothered to be around that bitch, *cough* I'm sick. 
The 'feud' became public knowledge when it was revealed that the two actresses no longer follow each other on social media; which is notably weird seen as they've known each other for at least two decades and have worked closely opposite for half of that. Mullaly then went on to mutually unfollow sidekick Sean Hayes.
Speculation grew further when Messing decided to post a selfie of just the three co-stars together, adding to the caption of the photo: 'Megan wasn't in this scene'. Although, ignoring the fact that Messing still chose that day to take it. It also wasn't the only time she left Megan out.
However, Eric McCormack (Will) denies this: "I think people worried about that entirely too much," speaking of the Instagram unfollowing. "The four of us get along like a house on fire, we always have."
A TV set on fire, more like.
The theory was fuelled by a few cryptic messages posted by Mullally way before a fued was even mentioned.
One read: "You can meet somebody tomorrow who has better intentions for you than someone you've known forever. Time means nothing, character does."
The feud seems very much like that of Sex And The City, where Kim Cattrall and Sarah Jessica Parker fell out, before Kristin Davis and Cynthia Nixon eventually sided with SJP. Anybody else feel like Mullaly may be the Cattrall here? Also if you notice, Sarah Jessica Parker likes all of Debra's posts…