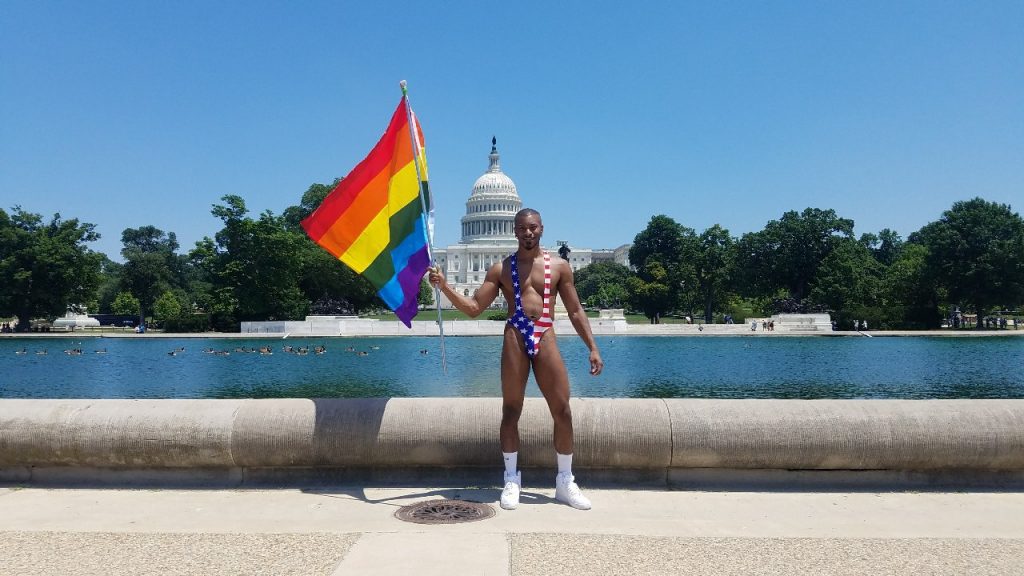 Devin Masters wears a lot of cock rings hats. Based in New York, when he's not partaking in a naked yoga class on Fire Island's beachfront or sitting for nude life drawing, he's performing as a go-go dancer and delving into the details of tantric massages on his sex podcast. Oh, and don't forget his OnlyFans… We caught up with Masters on highway masturbation, internalized homophobia and sex under the stars.
You got quite a colourful resumé! Tell us about the naked life drawing… How does it feel being naked around so many people in a non-sexual environment? 
As the saying goes I wear a lot of hats. I go-go dance also, so I'm pretty used to being one of the only scantily clad (if not nude) people in a room. The benefit is that I'm getting paid to just sit (or stand) there. It's not as easy as it sounds though. Some of the positions are uncomfortable and you have to hold them for up to 20 minutes at a time. Muscles start to cramp up that you didn't know existed, and some of the artists get visibly frustrated if you fidget too much. Seeing a bunch of visual representations of yourself afterwards is always a fun and interesting experience though.
As it's a gay men's art group, do you ever get chatted up afterwards? 
Honestly, the illustrators at these "Drink & Draws", as they are usually called, are all really professional. They might "chat me up" in their own roundabout way by asking if I ever do private modelling or something along those lines, but I've never had anyone like directly hit on me.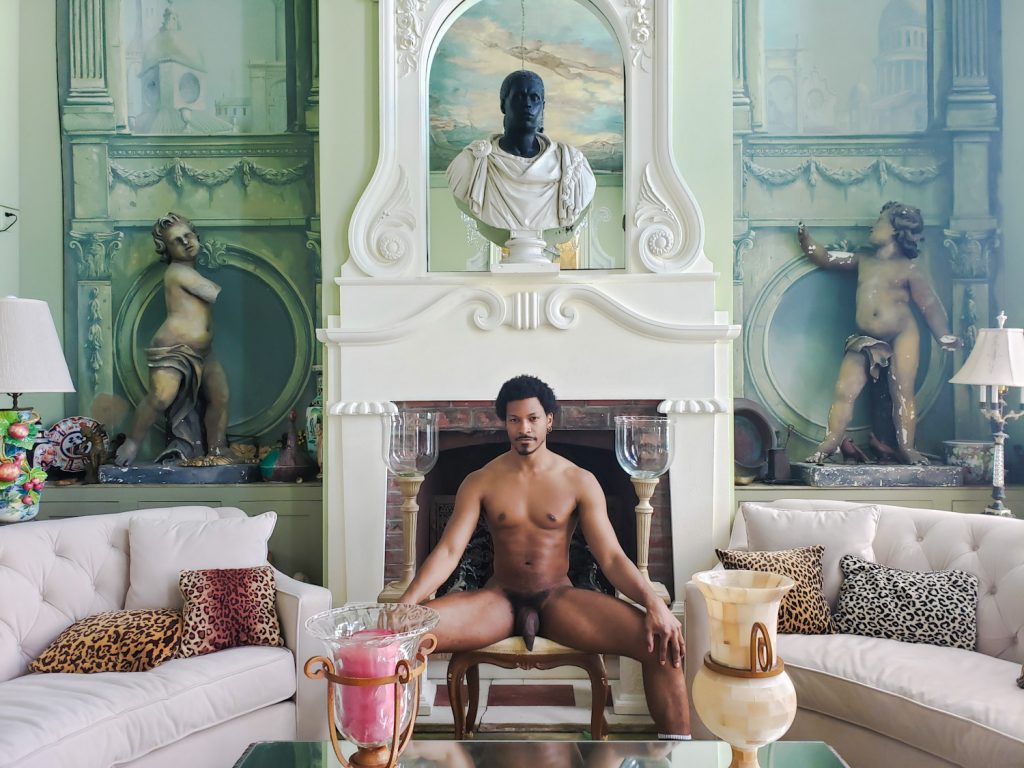 You're also a masseuse, tell us more about the art of mastering the tantric massage… After reading the testimonials, it does sound very tempting!
When guys request a tantric massage, they usually just want a massage with a happy ending. That's not at all what it is though. Tantric really takes everything that we know about self-pleasure and turns it upside down. Normally, when we masturbate, we pretty much do it the same way all of the time. It's why so many guys, even during sex, have to stroke themselves to finish. Because of conditioning. We hold our breath, tighten our muscles, and use our favourite up & down stroke to go for the gold; with tantric we do the opposite. We use conscious breathing techniques, relax our muscles, and I utilize new cock strokes on you to build up the sexual energy in your body, and then spread it around! It's a bit like a long edging session, where the goal is not to cum. Not cumming allows all of that energy to be released in different ways. I want to make you feel like you have a full-body boner. I utilize sensory deprivation and blindfold you, in order to make your other senses more heightened.
And I have to say, the best orgasm I've ever had was during a tantric massage; I couldn't believe that I was experiencing a new sexual sensation while in my 30s! It lasted for almost 5 minutes. I was lying on a massage table and my body just shook while I felt amazing sensations coursing through my body. Everyone's experience with it is different though.
Any specific bedroom talents?
Specific? I don't know. I'm just a really good top. & it's one thing to say that, but I've got receipts! Peep that OnlyFans page boo.
You spend a lot of time on Fire Island, tell us about one of your wildest times… 

Wild is relative on Fire Island. But the house that I stay in out there does a "Full Moon Party" in a house that's an architectural marvel, and was even featured in Playboy in the 70s. It has multiple outdoor levels, and on one night during each summer weekend that aligns with full moon, they do a party where the decks are packed with naked boys who are fucking and sucking all over the place. The house overlooks the ocean, and has a huge rooftop deck that gets really fun. There is something so carnal and beautiful about having unapologetic gay sex underneath the big bright moon and all of the stars and hearing everyone's moans interlaced with the sound of the ocean. It's magic!
What's the hottest piece of content on your OnlyFans right now? 

I have a lot of really fun fuck videos, but I've been on a road trip through the southern U.S. this month and have been filming some very fun solo videos. In one of my upcoming vids I pulled the car over on the side of a picturesque state highway that was surrounded on all sides by green grass and cornstalks. I pulled out my camera (among other things), got completely naked and made a wank video right there in the middle of the road. To me, that's content gold!
How would you define a healthy sex life, and how can we as individuals and a community move toward embracing our sexualities more?
Well, for adult content creators I think that a healthy sex life has to include occasionally having connected, non-performative sex, off-camera! I don't think that always performing for someone else (your fans), even if the camera is just set up in the background, is good for your mental health. And for gay men, in general, I think that having sex when you want to, not when your phone tells you someone is interested, is a profound act these days. Keep the apps, but turn off the notifications. Open the app when you fucking feel like it and recite the famous words of US Congresswoman Maxine Waters, "Reclaiming my time!"
Also, when it comes to sex, walk in your truth, and mind your fucking business. That is to say that gay sex itself is radical! & very often as gay men we are called "gay" or some other colourful iteration of the word before we even know that we actually are. This, in turn, makes us grow up with shame and as adults that shame can very often rear its head in the form of anger. That's why we so often shame each other for what we are into because deep down, we still see faggotry as something to be ashamed of.
Gay sex and gay relations are something to be celebrated! Whether it's being in a monogamous relationship, being a pass-around bottom at a sex party, or loving to piss in a guys mouth. You may not be into something personally, which is where the "mind your fucking business" part of my statement comes from, but remember that from a heteronormative perspective it's all radical boo! And we should celebrate each other and the ways in which we choose to connect, instead of always bringing each other down.
You can listen to Devin's podcast, Sex Werrrk!, available on 'pretty much' all streaming platforms. Devin also gives C&C members an intimate look into his topping skills with a POV sex tape: