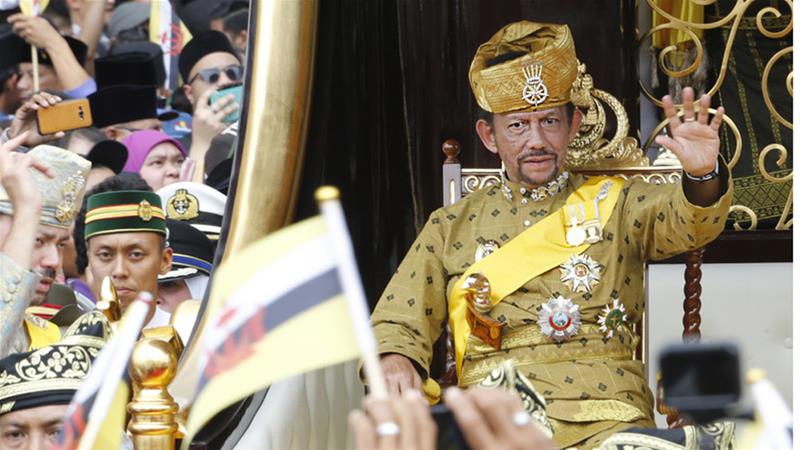 An update on the Boycott Brunei movement involves a number of cancelled sponsorships and the backlash taking its toll on the social media channels of Brunei's hotels.
Earlier this week, The Dorchester hotel in London released a statement, despite their owner enforcing the death penalty for LGBT people with stoning, claiming they are "an inclusive and diverse company and does not tolerate discrimination".
You'd have thought with all that money behind them they'd have been able to afford a stronger PR move, as strangely, words that simply conflict the actions of their management were not accepted from our community.
As a result of the responses, all of Brunei's hotels have deleted their social media channels (minus The Eden Hotel, Rome, which is just on private).
All Aboard Inclusive-Airways
Airlines STA Travel and Virgin Australia have also cut ties with the government, dropping any flights sold by Royal Brunei Airlines.
STA said:
"We're proud of our open and diverse culture and we expect our partners to demonstrate the same. We do not support in any way the laws being introduced in Brunei (including on Brunei-registered aircraft and vessels).
"Because of this we have stopped selling Royal Brunei Airlines flights.
"Anybody who bought Royal Brunei Airlines tickets through STA Travel and who no longer wants to use them can claim a refund, and we will help those customers to make alternative travel arrangements".
Choosing Brunei Venues? A Choice
While celebrities like George Clooney, Ellen DeGeneres, and Elton John – even PIERS MORGAN – have all called for the boycott of Brunei's international spaces, the TV Choice awards listened. They announced that they would boycott The Dorchester for this year's ceremony on Twitter:
The 2019 TV Choice Awards will not be held at The Dorchester Hotel. This year's venue will be announced in due course.

— TV Choice (@TVChoice) April 5, 2019
London Protest
This weekend, hundreds of people protested outside The Dorchester hotel London, arranged by Peter Tatchell.
Tatchell said: "If the Sultan will not listen to reason and compassion we believe the British Government should sever all diplomatic, economic and military ties with the regime."