American Horror Story returns to our screens next month, for the first official crossover season: Apocalypse, that will see Murder House and Coven merge. We're counting on Ryan Murphy to make this one a banger after throbbing disappointments Roanoake and Cult.
In the meantime we've ranked the ten sexiest studs that Ryan Murphy has roped into his highly-sexed, violent fantasies. And the best thing is, sexual boxes like 'heterosexual' don't really exist inside of Murphy's realm. Whoop!
Andre Holland
We barely remember Holland due to Roanoake being such a let-down; I mean, that script barely gave him any room to take his clothes off at all, and we all know that season could've used a bit of nudity.
Wes Bentley 
Normally we're putty for a head-fucked alcoholic, (especially if he can afford to stay in pricey hotels), but Bentley's character in Hotel was outshone by the season's ultra-gay and mostly-naked cast. The fact that said cast is mostly a bunch of white men who're hotter versions of Bentley didn't help…
Evan Peters
There's a huge hype around Peters that honestly, I just don't get. Like, is he attractive to look at? Definitely. Is he like, 'omg let me get the tissues?' Not really. Well, apart from when he's pounding Madison Montgomery against a wardrobe.
Zachary Quinto
Openly gay actor Quinto was equal parts disturbing, equal parts hot in season 2's Asylum, but it was seeing him in head-to-toe black latex in season 1's Murder House that stands out for us.
Cuba Gooding Jnr
Despite being a huge Hollywood actor, even Cuba Gooding Jr. (and Sarah Paulson) couldn't save Roanoak from it's doomed plotline. But he was still the hunky hubby we'd want to move into a secluded haunted home with.
Finn Witrock 
Wittrock has made notable appearances in both Freakshow and Hotel, and tends to be given the roles of the 'seriously disturbed cutie'; which is always bittersweet to watch, as you wanna like (or fuck) him, but makes it's kind of a boner-killer that he could gut you like a fish or flog your silver for skag money.
Matt Bomer
Fresh off flashing his flesh on the set of Magic Mike, it's no wonder why Ryan Murphy pulled him into Horror Story's most sexual season: Hotel; where he competed with Cheyenne Jackson for the affections of Lady Gaga. How's a girl to pick between two sexy bottoms?
Colton Haynes
Again, despite a steamy gay sex scene, Haynes character was subject to a naff plot line that meant we tuned out his season prematurely; and if Billy Eichner's cum face is anything to go by, that's not the only thing we'd be doing prematurely that involves heartthrob Haynes.
Cheyenne Jackson
We've had a crush on Jackson before we'd even seen him in anything. Actually, we probably couldn't tell you anything he was in, other than his own solo sex tape. Jackson played the wealthy owner of Hotel
Dylan McDermott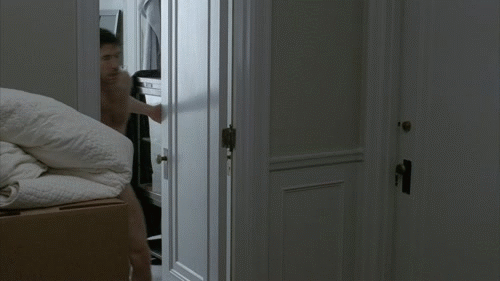 McDermott is definitely the top-ranking hottie of the Murphy franchise; especially when the show's not-so-subtle gay undercurrent pitches McDermott as a down-low bisexual.