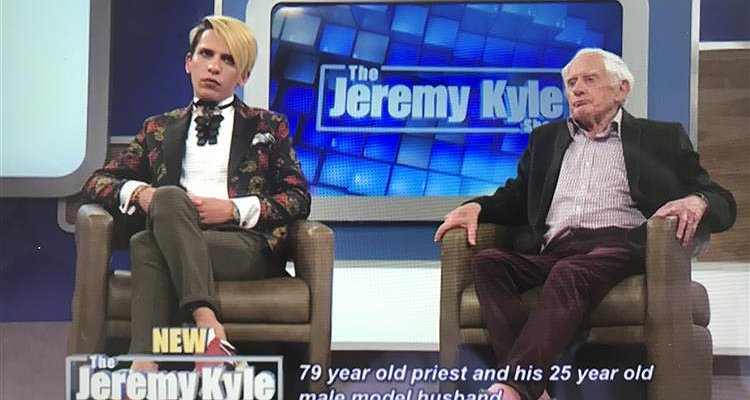 Remember when that 77 year-old priest got married to that 23 year-old "model"? Well guess what, they're back and they're on JEZZA! Yes, this would probably be the only time we'd take a day off work to catch daytime TV.
Well, they're two years older and they're here to set the record straight. Well as straight as two delusional queens can.
Ol' Jezza put Florin Marin (the "model") under the microscope for his moody wedding snaps, and chasing someone so much his senior, but he denied that he's a gold digger. And that's the complete truth! Well, about as true as his age and being a "model". Like, you can say the word 'model' over and over and over again, you still not getting booked for anything other than a home dye-job.
But still, former-reverand Clements claims it can "feel very nice" to be taken advantage of when it's by a younger man. Fair do's!
Though they've mainly appeared on the show to let everyone know that they've reconciled, and now have an open-relationship. Hmm, we can't help but think one of them is getting a better deal out of that agreement.
Clements confessed: "I love a toy boy, which may seem unusual for a priest, but priests are human." Actually, no, the unusual bit is that your toy boy is over the age of 14. And that priests are human.
Though Clements did admit that the age-gap was a problem; due to Marin's desire to go clubbing all night; yeah that's probably not ideal when you usually fall asleep after Harvester's early bird special. And their sex life had stifled due to treatment of Clements' prostate, but somehow we don't think Marin's too mad about that.