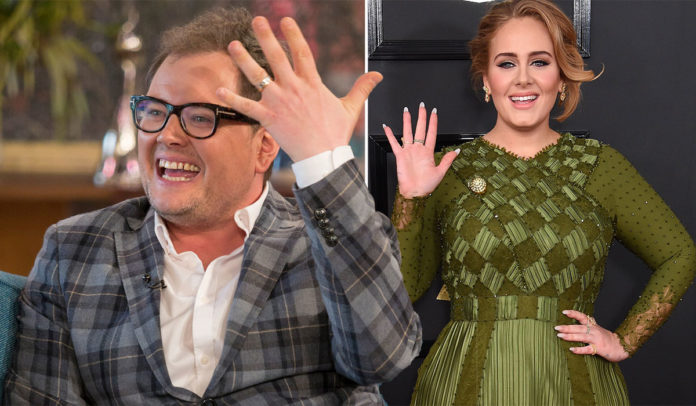 If you were planning a big gay ol' wedding for the day you tied the knot, you may want to take some notes out of Alan Carr's book; the comedian married his boyfriend of 10 years, Paul Drayton, and the minister was Adele.
In her backyard (we're guessing it would be a bit more generously-sized than ours), in LA, Adele fully committed to her role as minister and married her "best friends" in a secret ceremony in January.
Damn. Between Adele as the angel Gabriel, the Kardashian-style flower-drop and, well, that it's Alan Carr's wedding, the only way this day could've got any gayer would be if Elton did the music and Boy George wore chaps.
Carr, who often keeps his relationship out of the spotlight (smart lad), recently spoke out about the occasion on The One Show. Gushing about his Grammy award-winning minister:
"She organized everything," Carr said. "She's the…kindest, sweetest, most generous person ever."
"It was absolutely amazing. I could never repay her… She's just the best."
Aww, Adele really is an angel! Congratulations Alan and Paul!
#LoveIsLove