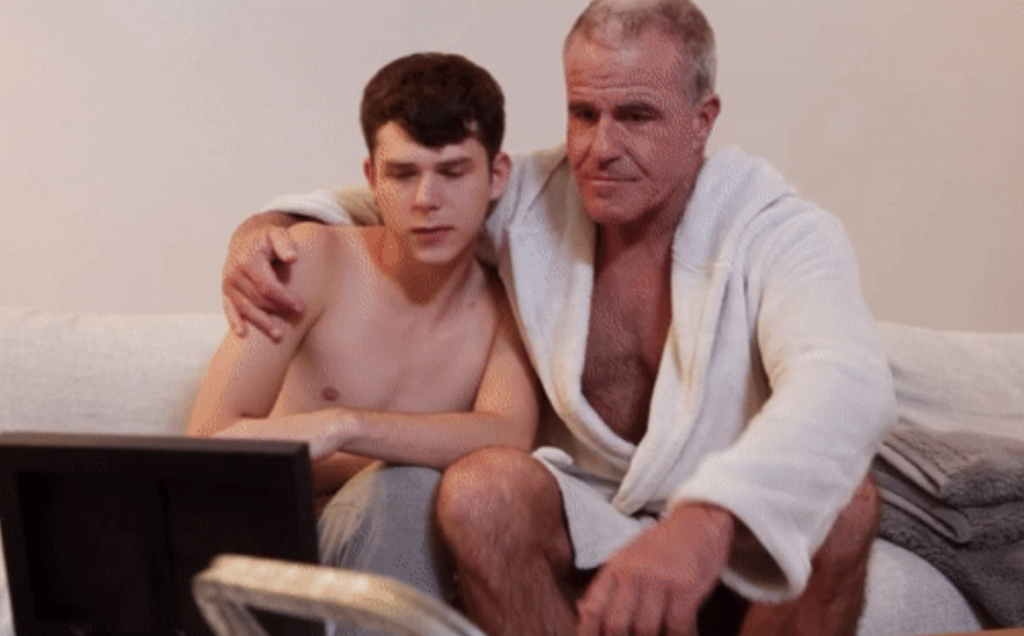 Still getting laid at after parties? That's so 2012. It's all about the afterlife, now! Well, at least that's what Family Dick think. As initially reported by The Sword, the adult streaming platform has a new film out called Ghost Daddy.
In one particular scene, a son is seen mourning his dead dad with his grandfather before the grandfather heads to bed. The son is then visited by an apparition of his dead dad, who then begins to jack his son off. Strange, we've never seen that happen on Ghost Hunters.
Naturally, the horny grandad is up and about in the middle of the night (probably indigestion), and stumbles across his grandson naked and alone. But after a moment, he's able to pick up on his son's presence and proceeds to join his dead son and living grandson in a phantom family three-way fuck.
And if you thought that was a mouthful you should try sucking on your dead dad.
'
Although the bareback scene does leave with one (yes, just one) question. Can ghosts pass on gonorrhea?
There are definitely some niche fetishes out there, and this, for sure, would be one of them. According to Wiki:
Spectrophilia is a fetish that is classified as the paraphilia in which one is attracted to ghosts or spirits. Spectrophiliacs fantasize about ghosts and often imagine scenarios involving sexual events between themselves or others and spirits.
While already unique in itself, the fetish is – obviously – combined with the concept of incest, which really just amps up the shock factor. Although, when it comes to shock selling sex, we hate to say it, but maybe it's time to… give up the ghost?
WATCH: Daddy shoots all over his stomach