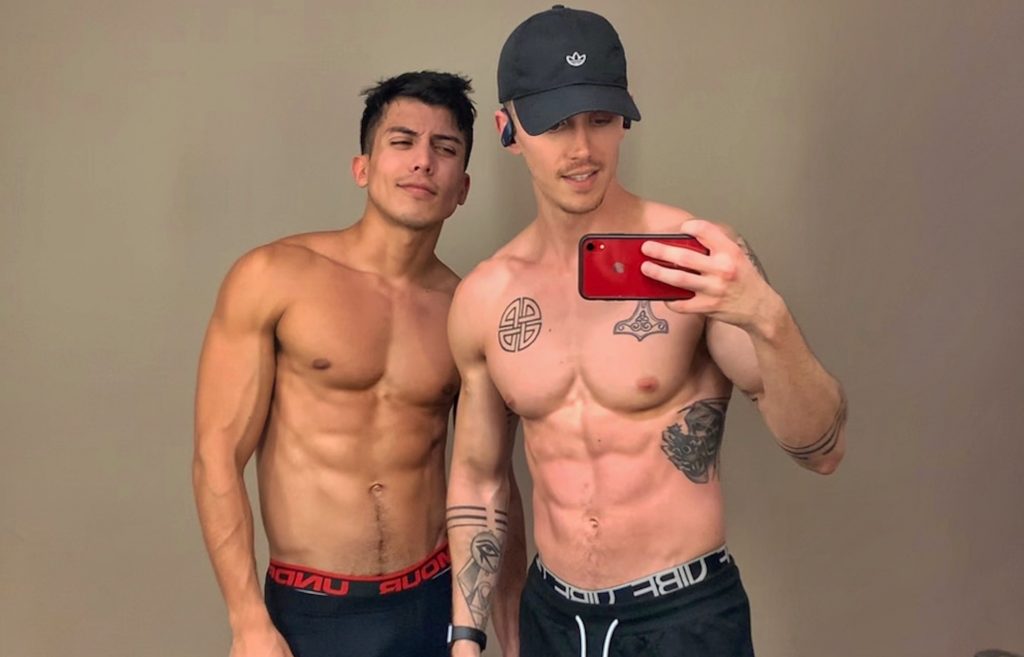 Dante (30) and Romeo (24) have left their time-consuming jobs in retail in exchange for jobs which allow them to see more of each other: online sex work. So they'll see more of each other physically, but also intimately. Having moved to Texas seven months ago the pair are now creating adult content full-time.
It started one night last year, the pair "decided to watch porn together for the first time and get a little more kinky," and after coming across fellow performers Mr Twink and Mr Twunk they were left pondering new career ventures. 
"We gained a lot inspiration from what we saw in their videos. We could see the love and the passion, and realized it was something we shared as a similarity. We started following a lot of what they did and eventually reached out to them on Instagram. They actually inspired us to find porn as our creative outlet."
Starting Porn Together has Been "Nothing but Positive"
We've always had a great relationship where we both agreed that honesty was the biggest piece of", Dante tells us. 
"We never expected to do anything on the scale we're doing things now when we got into this! We were expecting it'd bring in a few hundred bucks a month we'd have as extra savings. Once we started picking up, we learned we didn't have to work as much and we could finally spend time with each other." 
"Since all of this, our relationship is honestly the healthiest it's ever been and we get to do all of this together, as our own team. It's been nothing but positive for us and our relationship!"
The Voyueristic View
"We post a lot of clips and short videos of ourselves that we capture in the moment, as well as our own photography and professional erotic pics."
"We've also got a series on our page where we've got a security camera set up in our room and we'll upload raw footage from some of our most passionate moments that we don't go and grab the camera for. In addition to all of these, we also make sure that we give our subscribers 2 full-length videos per month; we put effort into camera placement with multiple angles, lighting, with good editing. We're constantly trying to think outside the box to make sure our page stays unique and sex-positive for all!"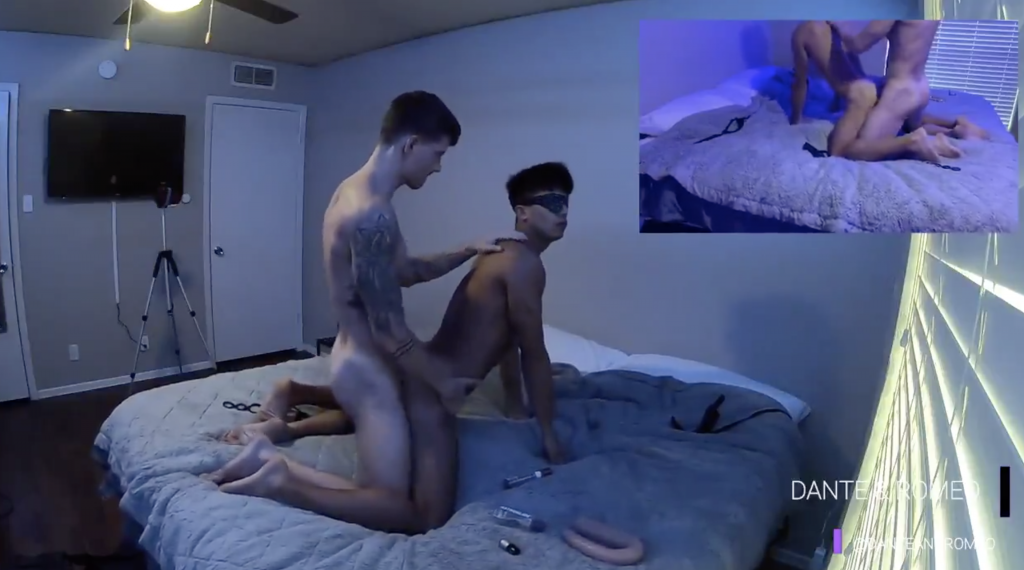 What turns each of you on the most?
Dante: For me, sensuality gets my blood going. I love being sensual, caressing my partner's body, kissing up and down and stimulating sensitive areas like the ears, neck and nipples. That moment when the sensuality hits a really hot level and I slip my dick in is one of my favorite moments having sex. Once I'm going, I love dipping back and forth between slow sensual and faster pounding….watching my partner's pleasure and my dick sliding in and out is so hot to me.
Romeo: Kissing, I am a sucker for kisses… Getting kissed from head to toe turns me on the most and just has me submissive for that cock and pleasing my partner how ever he wants it.
Watch Their Intimate Morning Quickie – Exclusive to C&C [NSFW]
And what about the fans?
"Lately, there's been a lot of response to Dante opening up to more bottoming, as well as Romeo opening up to more gear fetish. We do our best to continue trying new things sexually, and capturing those moments on camera for our fans. We both think that the fact that we do try new things is something our fans really enjoy too… keeps things fun, you know!
We've also got a lot of positive response anytime we collaborate with someone. We've currently got 3 collaborations on our page and there's always a lot of excitement anytime we mention another one. We're selective with who we collaborate with because we value the connection when having sex. Bonding with guys and capturing that moment of raw, animalistic intimacy is the hottest porn in our opinion anyway! We'll definitely be doing more collaborations in 2020!
"We wouldn't say there are any party tricks. Just make sure you're always having fun! If you're not having fun while having sex, you're not doing it right! We're always trying new things, and a lot of it is all firsts for us."