While much of the attention on Justin Timberlake lately has been revived regarding Janet Jackson's assisted "wardrobe malfunction" during the 2008 Superbowl, it seems that Timberlake had a malfunction of sorts himself.
The Sexy Back singer was changing on a recent beach trip, and left his sexy backside on view.
Fans will probably be sad that we get a flash of the trousersnake.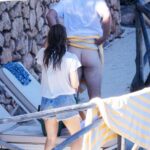 Timberlake previously bared his buns in a 'handful' of acting roles. Take your pick.
Timberlake also received criticism for how he handled his break-up with Britney Spears. Britney continues to detail the extent of her conservatorship restraints.