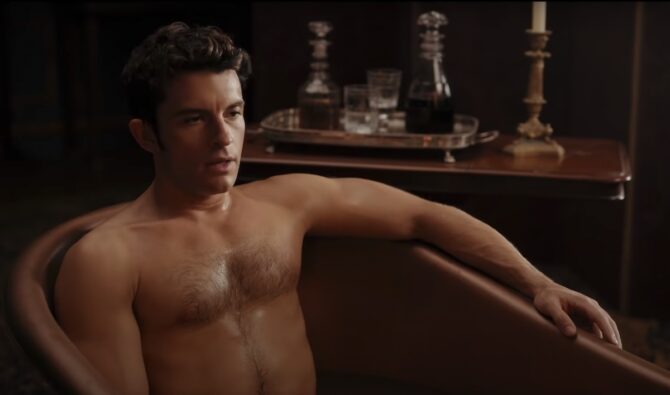 Add Jonathan Bailey's modesty pouch to "famous props that would sell for an absolute fortune" alongside Chris Hemsworth's penis prosthetic.
The actor who wore the item for a number of skin-baring scenes in Bridgerton, spoke the LA Times about the bathtub scene, saying he felt a "bit embarrassed" while wearing the flesh-coloured thong.
"There was actually a camera in the water between my legs looking back at me," Bailey shared. "So it was almost like a water birth. And I remember afterwards, I was so appalled at myself over the day that we had experienced and so confused, because you can't really explain it to anyone."
And he was in such a hurry to leave the scene, he forgot one thing.
RELATED: Chub in the tub: Actors who bared all in the bath (NSFW)
"When I got up to get the second round, I was like, 'I'm chafing a bit,'" Bailey revealed. (Been there.) "And I realized I still had my modesty thong on, because I was so traumatized and I ran so quickly from set that I hadn't even taken off my little pouch. I still have it to this day."
Wonder if it's on the mantle piece like Hemsworth's plastic schlong.
Imagine if celebrities started selling off their underwear OnlyFans style, but for charity. With the amount that OnlyFans makes and the number of horny people in the world, it would probably only take the entire cast of a Marvel film to solve world hunger. (Or world thirst, at it were).