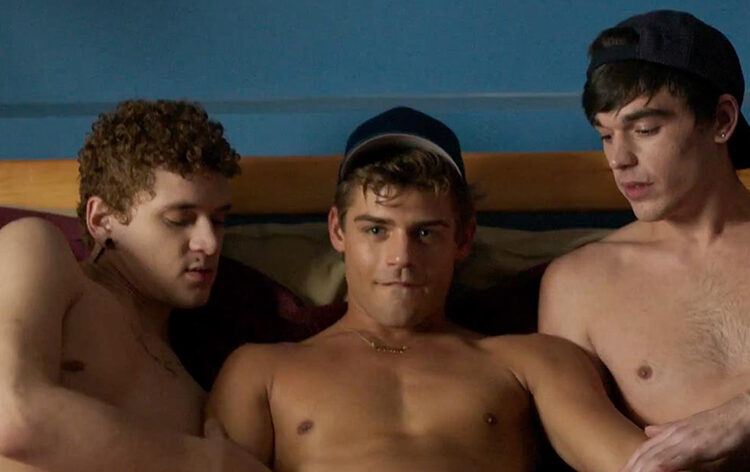 Garrett Clayton doesn't want to be pigeon-holed as "the "hot guy" who walks on stage for a couple of lines, shows his butt off, and everyone calls him a slut", as he told Queerty in a recent interview.
"I've worked really hard to have a well-rounded resume right now. I have to hold strong in the kind of performer I want to be, and respectfully say that I don't want to keep doing the same thing," he said.
Clayton's fear as being viewed as a 'slut' perhaps in-part stems from an on-set experience he had while filming King Cobra.
RELATED: From Disney to Doggy-Style: Garrett Clayton's Titillating Transformation
 "I was challenging myself mentally, saying, 'This is a character. This isn't me. It's okay.' It felt very vulnerable to be pretty much nude and insinuate sexual acts with basic strangers," he explained.
"Most of them were respectful, but some of them really got to me. At one point during a shoot, I was on the couch with two men on either side of me, and they started making jokes about what a slut I was. They're like, 'this isn't his first time.' I felt like they were talking through me. It really got to me, I ended up leaving the room. They just wouldn't stop saying such nasty horrible things right through me as if I wasn't sitting right there."
He continued, "the movie, I guess, made some people feel like they had permission to either say or do hurtful things. That was such a big eye-opening experience because a lot of my girlfriends have told me men have treated them this way."
Clayton shares that his regrets over past roles were "not standing up for [himself]". "I've always had trouble doing that out of fear. Whether it's fear of rejection or fear of upsetting people. I've had to make peace with the fact that no matter what I say, somebody is going to be upset."
Read the full interview here