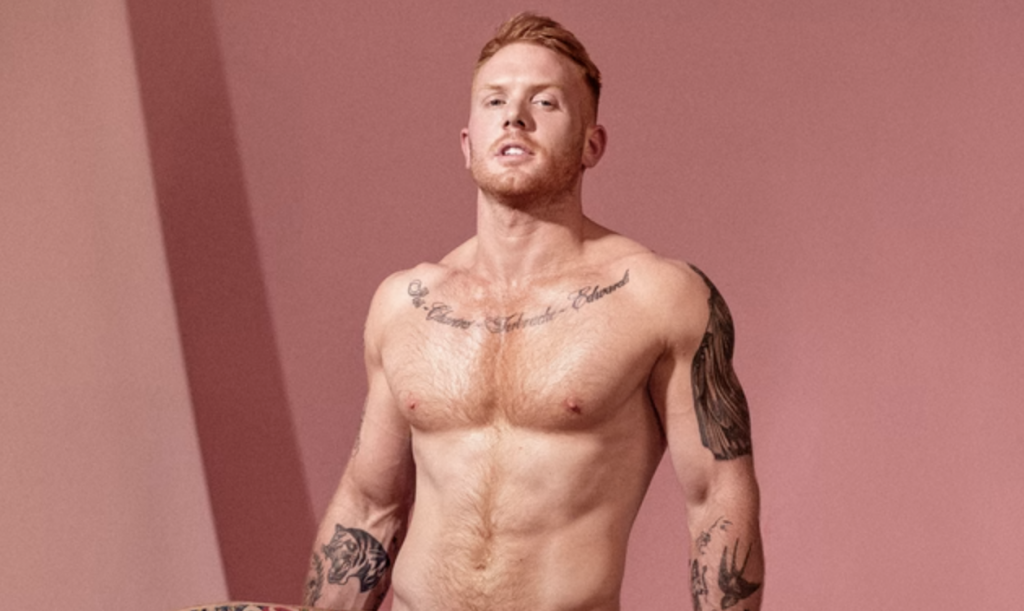 You've undoubtedly heard of Red Hot, the photo exhibit capturing hunky gingers; this week we're chatting with one of their models Craig Edwards.
"I'd say I'm very comfortable with my body and nudity in general," Craig tells us. And also shows us.
The 35-year-old plasterer – who states he's attracted to femininity (regardless of gender) explains that the Red Hot Cocks 2020 calendar was his first shoot of any kind.
"We started off shooting some Instagram safe promo stuff and then it was time to strip off… by that point I was in the groove and just went for it, balls to the wall!" And we've never wanted to be a wall so much in our lives.
It was a "lot of things that conspired at once" which led Craig to OnlyFans though. After moving from London to Bristol, and spending his savings on his first property, his job which had kept him secure for six years made him redundant on his first day in Bristol.
"I decided I was done with corporate life and would train in a trade instead. Being self-employed allowed me the freedom to think "what the fuck, I might as well see if I can make some extra cash from the success and feedback I've received from the calendar" I've not looked back since!"
After his redundancy, Craig moved back in with his mum and notes that it's not the easiest situation to create adult content in.
"At the last moment we've split up, and so now my house is sold and I'm at mums, living out of boxes since everything was packed ready for the move! We're hoping to be in the new house by February (as long as the solicitors pull their fingers out!) and then it'll be a lot easier."
And you won't find much nudity on his socials just yet…
"With Twitter, it wasn't all down to me. I've been in a long-term relationship for 8 years and my partner wasn't comfortable with me going fully NSFW on a public platform. But stay tuned 'til the divorce is finalized…" he jests.
Having watched Craig's videos, he's often very verbal which he says is something that happened "naturally".
"I watch a lot of porn, and so making videos jacking off can get boring eventually if that's all you do. I just thought that if I get verbal it's like telling a little story as we go along and it fits because I like to be dominant. I think the key to good dirty talk on OnlyFans is being instructional – everyone loves a good JOI!"
(That's jerk-off-instruction, in case you were wondering).
And as always we wanna hear about the hot sex our featured lads are having. Thankfully, Edwards was happy to oblige…
"I'd been at sea in the merchant navy for 6 months and I came back into Singapore. I went out for the night with my colleague and we met a bunch of school teachers. The girl I liked was 5foot1 and had a tiny frame, tanned smooth skin, gorgeous! She wouldn't come back that night but came over the next day.
RELATED: NSFW: Reality Star Rogan O'Connor goes Frontal, Tells Performers to Stop Gay-Baiting
"When she arrived I opened the door in my towel and we ended up fucking raw seven times in about 2 hours. I was shooting load after load into her and all over her back, her chest, her face. It was all the time away that had driven me crazy and finally, it could be released!"
And we've never wanted to be a 5'1 teacher than now either.
Describing his content in five words, "ginger, hairy, muscles, top, verbal". Well, there you have it.
Wanna see Craig jerking his ginger cock and being a verbal daddy? Hit Craig's page, or watch him and hundreds of other guys shoot their load on C&C.
WATCH: Craig shoots his thick load