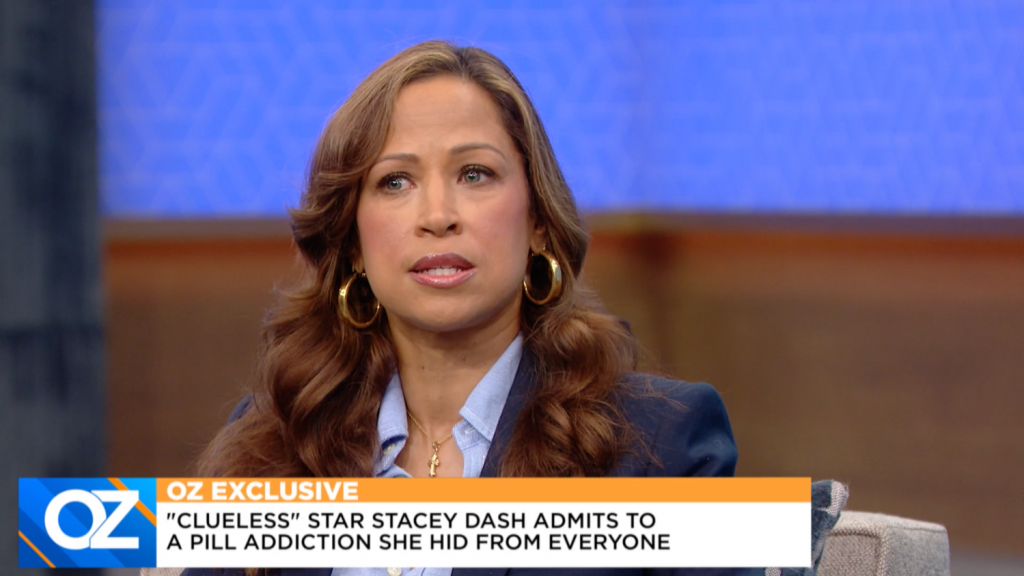 The side effects of Vicodin misuse are numerous, and while you'll find dizziness and nausea listed on the side of the bottle; there's nothing which states temporary homophobia.
This week fallen Clueless actress Stacey Dash appeared on the Dr Oz show, a cry for help from any celebrity.
On which, Dash discussed her "deepest, darkest secret": she's addicted to Vicodin. Her and half of Hollywood… We reckon she's got darker secrets than that.
Dash, who was apparently taking 18-20 pills a day says this caused her outbreak of transphobia, but she is now five years sober and has some regrets. OK… but it was only five years ago you were telling trans people to pee in the bushes?
Furthermore, in said interview from 2016, Dash states that being transgender is a "choice" (much like choosing to take 20 Vicodin a day), and that she won't "endanger her child's life" by allowing trans people to use the bathrooms aligned with their gender. But she will do it with a self-induced coma on the school run.
Dash was also sober when she supported Trump on his second presidential run; even when you're not as outright bigotted as Dash was, we all know what Republicans stand for.
In the therapy session, Dash outlines her entire life's trauma, from being molested at four-years-old, to doing her first line of cocaine with her mother at 16, to the domestically abusive relationships that followed.
It definitely takes bravery to speak out about one's trauma, but if Dash can go that in-depth about where her anger and other issues derive from, then we're waiting for her to unpack the anti-LGBTQ hate. Or does she actually expect us to believe its Vicodin that rages against the liberal agenda.
"I'm not homophobic," she claimed. "I'm not racist. I was just angry, and it benefited me." Yeah, we're gonna need a bit more than that.
Ironically, Dash ends her moving appearance by calling for more "compassion" for addicts.
Speaking on how her faith, Dash said: "There have been days where I've spent the entire day on my knees and didn't move, until I felt God fill that hole inside of me," she said.