Words: Kieran Galpin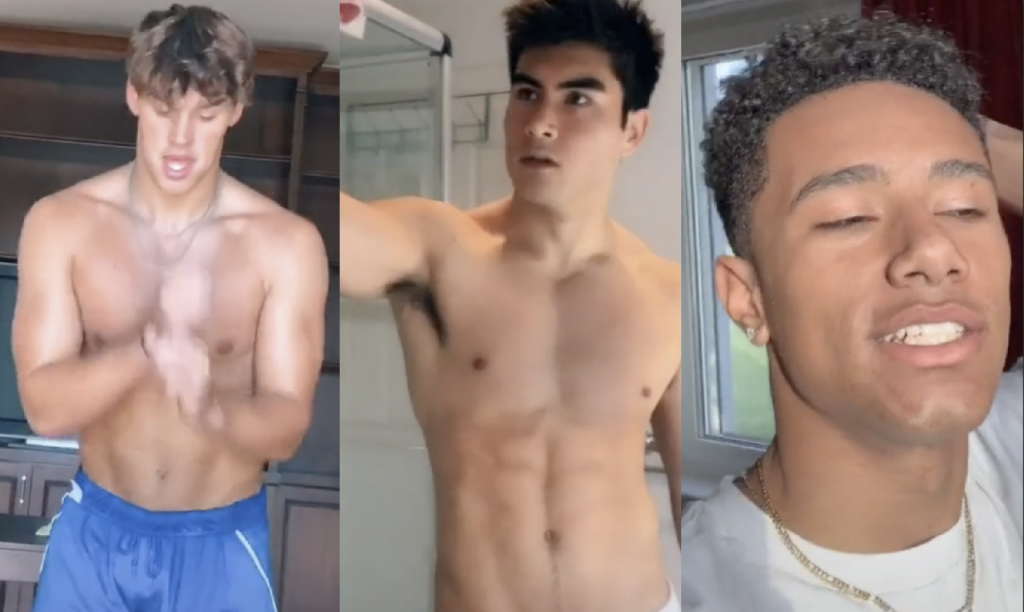 We all secretly long for the days of Vine to return. If you knew who to follow, the app was just as satisfying as Pornhub and left your browsing history suspiciously clean. But, there is hope on the horizon, in the form of Chinese made app TikTok. Since its release in 2016, TikTok has slowly become the playground for the thirsty, dirty, and outright horny.
TikTok has some fairly strict guidelines, so don't expect content to rival that of your favourite OnlyFans performers, (although there's PLENTY of guys using the app's features for NSFW videos too).
Here is our rundown of the fifteen hottest TikTok lads to get your blood pumping, and have you turning your phone away from people on public transport.
RELATED: Watch Cute Naked Guys Take Part in TikTok Challenges [NSFW]
Garett Nolan (@garett_nolan)
His Hips don't leave much to the imagination, and it seems he forgets to wear underwear constantly!
Noah Beck (@noahbeck)
TikTok's rising star that also has crotches rising all over the world. This pretty boy knows how to go viral, and everyone is lapping it up.
Karl Kugelmann (@Karl_Kugelmann)
If Prince Eric were real. "Under the sea" or anywhere he wants it, because you don't argue with a guy that looks like this.
Sebi (@sebi)
Rock hard muscles, and hands that would look good as a necklace…what more could you want?
Diego Barros (@diego_barros)
Watching slow motion bulging muscles should be a recognised hobby for sure. Check out his Instagram for another type of bulge.
See Diego Barros OUT of his briefs
The Lopez brothers (@tonylopez & @ondreazlopez)
What's better than one hung dancer? Hung brothers of course! Throw Jason Derulo in there and my weekend is sorted.
Cameron Porras (@itscamsworld)
Pretty boys so often usher dirty thoughts, and no one is prettier than Cameron. He also has a skincare line, though I know of something that I hear is quite good for the skin!
Eduardo Mora (mrgains22)
A muscle bound federal agent who looks good in both kevlar and underwear, though I know which one I prefer.
Aaron Fuller (@aaronfullerx)
You don't want tan lines! I am also available to rub suncream in, you've got to protect your skin after all.
Andrew Taylor Knight (@andrewtaylorknight)
Grey joggers are a staple of any hot guy. Never wanted to be a mirror so much in my life.
Shade Andrew (@shadeandrew)
Grab the cocktails, grab the condoms, because I hear a pool party calling.
Joshua Jason (@yogismithua)
Living my Katniss Everdeen fantasy because "I VOLUNTEER AS TRIBUTE."
Malwyn (@nasouin)
Listen to his voice and then tell me you don't like dirty talk… and I don't even have to mention that tongue.
Matt & Omar (@matt_and_omar)
Here is to hoping this cute couple starts an OnlyFans.
Log onto TikTok and give all of these beautiful men a follow, you definitely won't be disappointed.
Get access to 90+ videos with C&C members