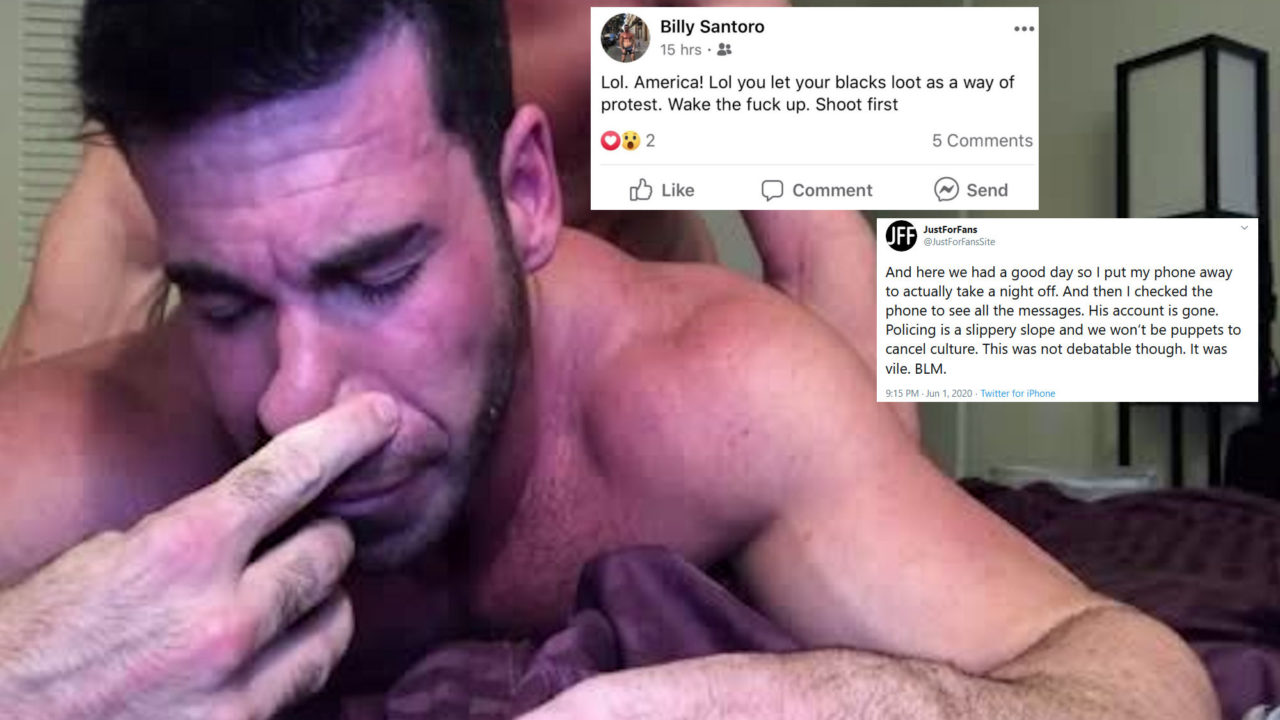 Image: The Sword
While people of colour and their white allies around the world protest to the ongoing police brutality, people like adult performer Billy Santoro are showing their true colours. (Spoiler: it's extremely white).
Writing on his Facebook page, Santoro wrote: "Lol. America! Lol you let your blacks loot as a way of protest. Wake the fuck up. Shoot first."
JustForFans – an adult content creation platform similar to OnlyFans were the first to comment, confirming they had deleted Santoro's page.
And here we had a good day so I put my phone away to actually take a night off. And then I checked the phone to see all the messages. His account is gone. Policing is a slippery slope and we won't be puppets to cancel culture. This was not debatable though. It was vile. BLM.

— JustForFans (@JustForFansSite) June 2, 2020
OnlyFans and Twitter were next to take action. Before his Twitter account was deleted Santoro tried to justify his racism (again without any actual apology). Firstly claiming that he "doesn't even have a Facebook account" and then just 40 minutes later saying he lashed out because his friend had died.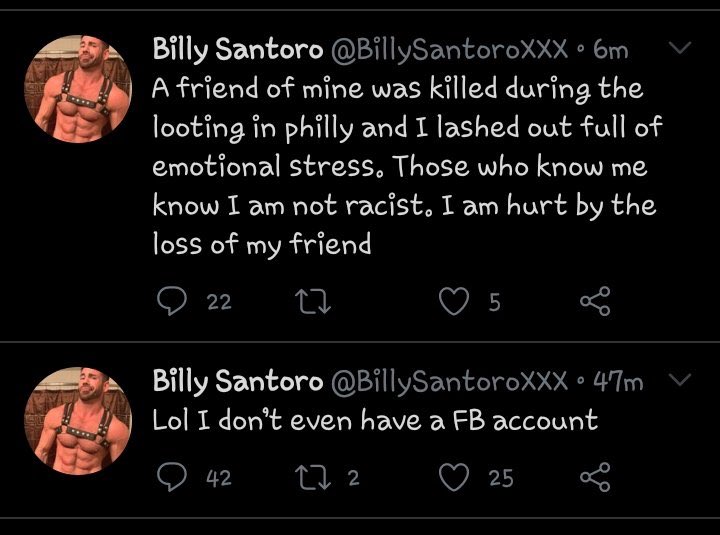 Girl, that status was not reflective of someone grieving the loss of a friend.
As for not being racist, he was also snapped responding to Hawk's Bar & Grill. The company had issued a statement saying they didn't want their property damaged but that if it was needed to "bring proper attention to the disgusting injustice… so be it"
Santoro offered an 'alternative', that "the blacks will breed more hatred toward them". (We're not sure who they are, but maybe he was high on Tina and tweeting).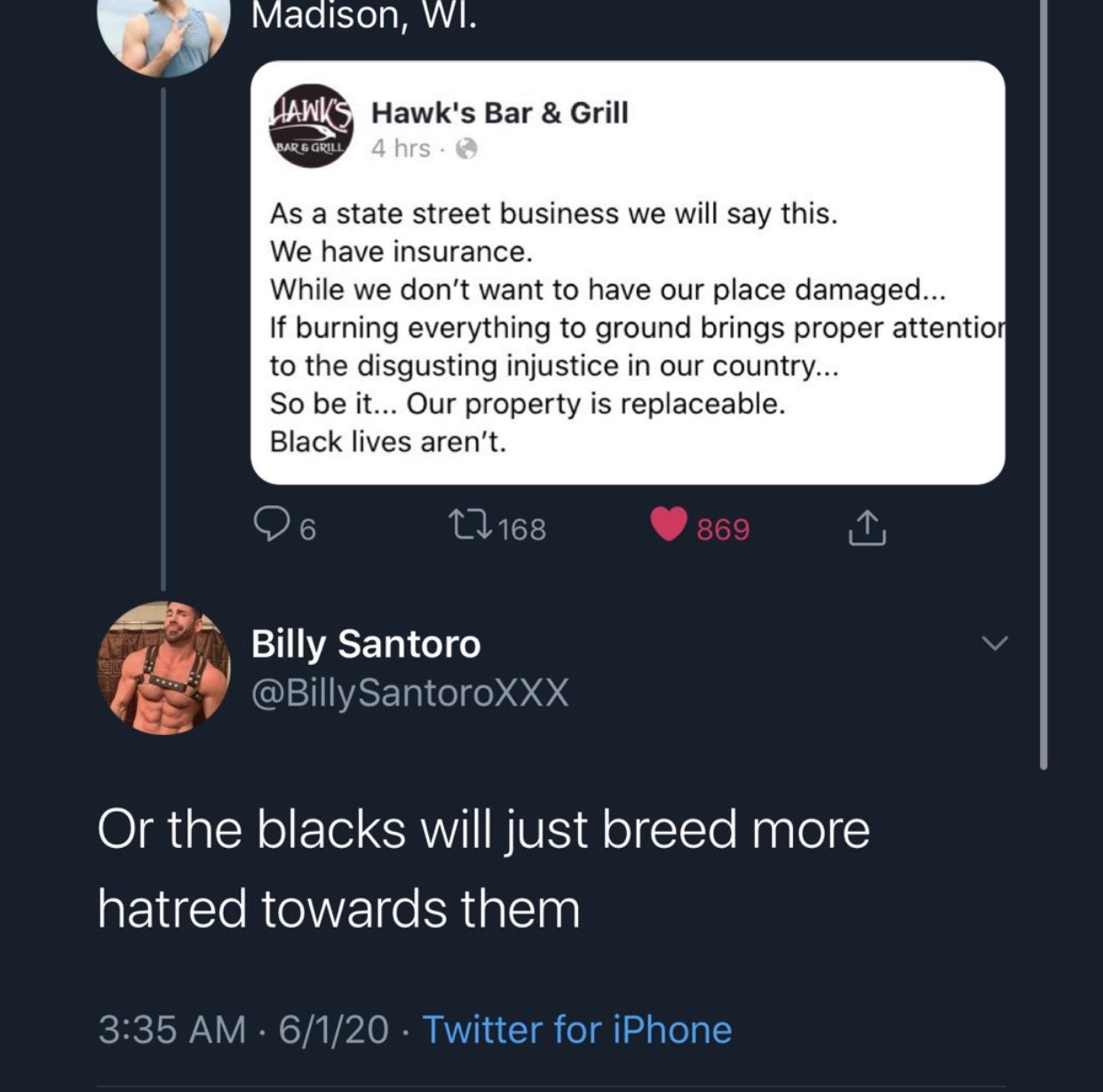 Last night, (Monday 1st) Santoro's Twitter page was suspended – hopefully indefinitely. Porn blog The Sword also notes that when his OnlyFans was active, it contained clip teasers with references to "a dose of Tina" and black fetishization.
Other adult performers who rushed to condemn Santoro include Austin Wolf who called him a "nasty son of a bitch" and called for his accounts to be deleted. While Austin Wilde called him a "racist steroid queen".
Trent Atkins and Josh Moore also joined the stand against Santoro on social media.
U nasty. Nasty. son of a bitch. Every. Write @onlyfans @JustForFansSite u keep this fuck on ur platform and ur just as bad as he is! #BlackLiveMattters pic.twitter.com/2TUQ8oUg6l

— AUSTIN WOLF (@austinwolfnew) June 2, 2020
Look what racist steroid queen crawled out of his dumpster to tell everyone. This isn't anything new for him, but he's got me blocked so won't see this (unless of course y'all RT/reply to this) @billysantoroxxx

Unfollow and unsubscribe from everything this trash has to offer. pic.twitter.com/WE3vgXNwp7

— Austin (@AustinWilde) June 2, 2020
Absolutely disgusting @BillySantoroXXX

What a piece of shit !! pic.twitter.com/Mlfv2Lf3ms

— JoshMooreXXX (@JoshMooreXXX) June 1, 2020