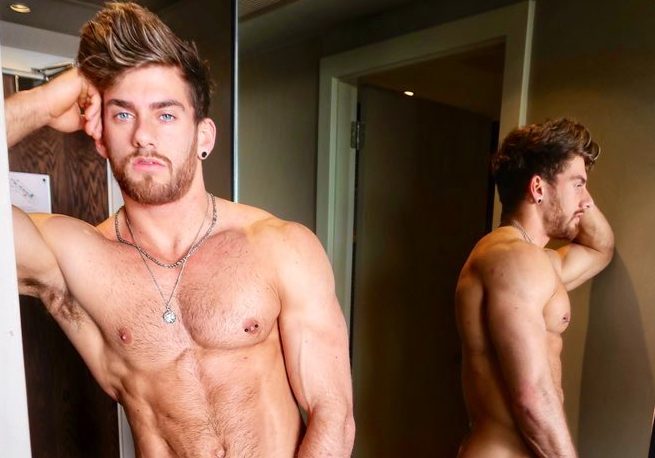 Zac Smith is exactly as his job title describes: Dreamboy. The British stripper almost fell into his profession, but that doesn't mean he didn't have a natural talent for it.
"I've always loved being naked," Zac, who also posts more explicit content online, tells us. Natch. "One day a friend asked me to cover him in a show, and I ended up doing it ever since." A bit like how you cover your mate's shift at Sainsbury's and then end up with your cock out.
And it seems like he's formed quite the bond with his stripping brothers since, (you know, the kind you wanna be a fly on the wall for), "I've done collabs with Lotan (Carter) and will be doing some with the other gents when we are back in rehearsals!"
We asked Smith – who identifies as straight – how he felt about gay-4-pay:
"It baffles me that people have a problem with it. Sexuality shouldn't come into this. I like being naked, and I enjoy what I do. I push my boundaries, yes, but it's my decision and yours to watch if you so please"
But if your curious about just how much Smith is willing the blur the boundaries, a detailing of his filthiest content gives you a good idea.
"It was a request a guy made wanting me to be a sub on Skype for 25 minutes. Riding dildos, masturbating and blowing a load onto my chest, while looking him in the eye and calling him daddy… then verbally encouraging him to cum for me."
That sounds like quite the experience.
Smith seems settled in his position as an adult performer, "I believe there will always be a place for platforms such as OnlyFans," but admits the industry is not without its faults.
"It's definitely becoming saturated, and there's some models out there who are – firstly – taking advantage of their subscribers, and secondly, cheapening what we do by posting poor-quality content – which is basically porn for peanuts".
"Don't get me wrong there's a place for everything, but OnlyFans is about going the step beyond Instagram and making it more intimate than porn because the audience can direct what they want and chat to their stars, you know."
Giving C&C an exclusive super-HOT 10-min tape we can confirm, Zac definitely goes the extra mile…