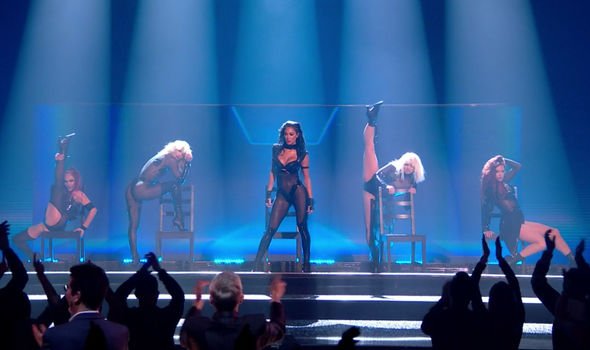 Many of us were excited to hear the news this week that the Pussycat Dolls would be reuniting las night (30th November) for a performance on Celebrity X Factor, but after actually seeing it, we've decided that it was both partly underwhelming and more than we could've ever dreamed.
First of all, let's point out that this was not a Pussycat Dolls reunion as much as it was Nicole Scherzinger and her back-up dancers. In fact, both Ashley and Kimberly were given identical hair colours and styles, as were Carmit and Jessica to ensure that Nicole was framed as the Beyoncé.
I understand she's the main bitch, but the editing really did those other girls dirty too. Not to mention, their microphones weren't even turned on, leaving us with nothing but Scherzy's unnecessary ad-libbing.
"Be careful what you wish for Simon"
"Come on"
However, the routines were basically non-stop and Nicole did sing some parts live. It just might have a felt a bit more like a girl group if the others had been given some backing vocals (and more airtime) at least.
They opened with Buttons, naturally with Nicole in the skimpiest outfit which you'll notice throughout the gratutious zoom-ins, showcases just how great she still looks.
The outfits were sexy but perhaps not the easiest to dance in, and because of the lighting we couldn't see the clear-cut shapes of the choreography. But that aside, they were serving you sex and liberation which is ultimately what we love about the Pussycat Dolls. They're beautiful women that sell you a sexy routine to an original, catchy pop track. It's the x-factor.
After When I Grow Up and Don't Cha, they transition into their new single React. And they really did save the best for last; while it was great to hear their classics, we wanna know what's coming… React may not be as initially catchy as some of their other songs, but it's a whole vibe! And a total slutfest of hairography. There's a full-blown *gasp* moment as girls transform into Flashdance strippers and it's a home-run from then on.
Obviously, some people complained, branding it a "strip show", and to them we say… PRUDES! That's exactly what we paid for.
Welcome back, we can't wait for the video!