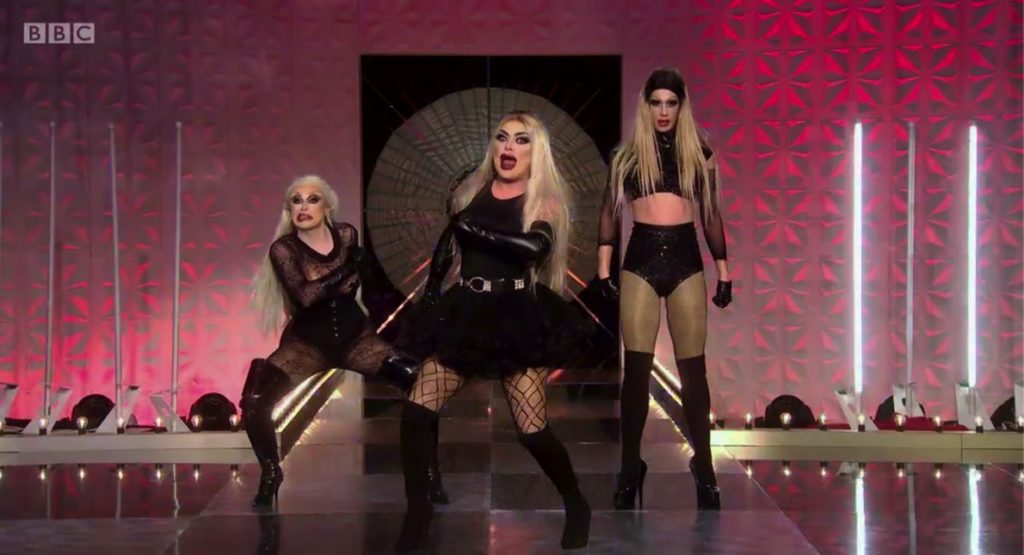 Last night Drag Race UK debuted its best episode to date, not only were the British queens hi-larious in the reading challenge (nothing like a bitter Brit to bring another bitter Brit down), but they really did bring it for the girl group challenge.
Challenged to work together in groups to bring a one-hit-wonder girl group, The Frock Destroyers (Baga Chipz, Blue Hydrangea, Divina Di Campo ) were definitely more on-brief; cheesy and over-the-top and all-round guilty pleasure. With those whistle notes and that gag-worthy runway look, Divina was undoubtedly the star. But here's Ru throwing out winner titles like its candy, (probably because the badges cost about the same).
Filth Harmony (The Vivienne, Cheryl Hole, Crystal) also did a good job, especially Cheryl – who sadly, like a couple of the other queens, has become increasingly annoying as the series has progressed. The way she got all emotional about that challenge 'cause she liked Spice Girls as kid, we all did babe. Also, you came 4th out of 6, dial down the big speech, especially when there are bitches in the bottom.
Break Up (Bye Bye) is undoubtedly one of the catchiest jingles in the show's herstory, I was already asking where to stream it when Ru said: "on all platforms, now".
*Plays on repeat*