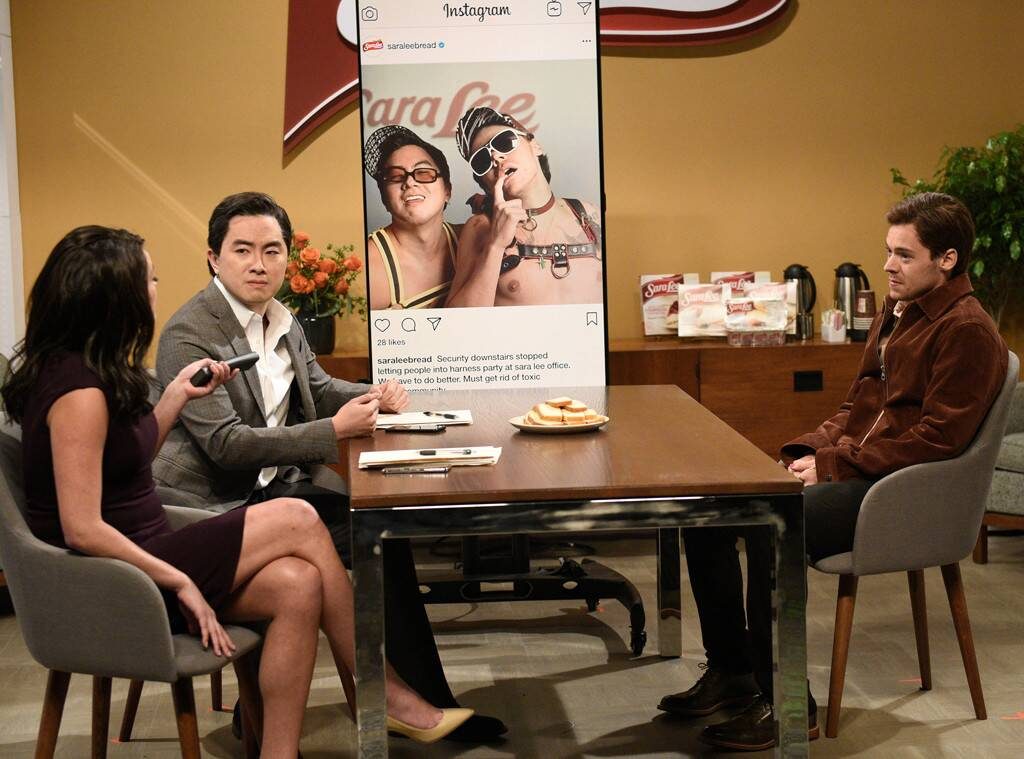 If the thought of Harry Styles getting railed by Nick Jonas is one that appeases your appetite, then you might be interested in Saturday Night Live's latest sketch which features the singer as Dylan, a sexually-driven social media manager.
In the sketch, Styles is called in the office of his bosses at Sara Lee bread, who are unhappy with the job he's been doing. Turns out Dylan has been posting thirsty comments using the company's account; such as "Wreck me Daddy" and "Destroy me King" on a snap of Nick Jonas, as well as a string of emojis under a lesser-known guy's photos.
Turns out eggplant + squirt + train + ghost = Rail me to death. Cut to gays across the country changing their Grindr header.
Dylan claims he's been mixing up the company's Instagram with his own, but his bosses state that it's one thing to be ignored by Nick Jonas and completely different one to get ghosted by a "random twink with 200 followers".
While posting photos of grilled cheese to the company's account, he captioned the image: "Feeling really depressed after threesome. What was supposed to be a fantasy ended up more rejection. Must get rid of toxic in community."
Dylan claims that it was Sara Lee who posted the caption while on a 'poppers high'.
But turns out he wasn't the only one with an accidental gay agenda. Bowen Yang, who plays one of the bosses, had been uploading similar content since before Dylan had worked there; like a picture of the two together for the office "harness party".
In a bid to defend himself, Dylan claims that he did DM Shawn Mendes a holiday promotion, which turned out the be a photo of his open throat. Goals.
Sidebar: It's funny how LGBTQ+ websites can laugh at Harry Styles making jokes about the gays, but not Family Guy? Jokes which were actually more problematic than those on the animated TV show.