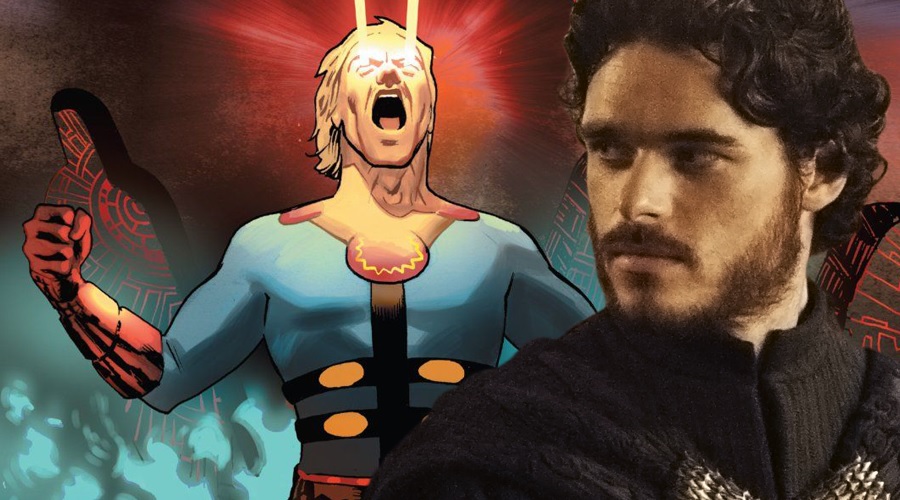 Richard Madden has landed his next big role, and though it may not be as James Bond, it's still a pretty big deal. Madden will mince into the Marvel universe as their first gay superhero; Ikaris, a member of the Eternals.
No, not the sassy 90s girl group; the Eternals are Marvel's cosmic comic characters, who were created by The Celestials to protect the earth against the Deviants. Madden will join Angelina Jolie and Kumail Nanjiani.
Rumours that Marvel would cast an openly-gay Asian male for the lead have clearly been put to bed, and as we stand in a Scarlett-shaped shadow of cultural appropriation, it'll be interesting to see how this pans out.
This is definitely not Madden's first time playing a queer character, as he did in Sirens, and more recently in Rocketman. Now, if we know the industry – and we do – its possible that tensions will begin to arise, as they have done, on heterosexual people telling LGBT stories; especially as Madden already had a sit-down with queer actors about their struggles. A discussion, which when furthered, could put more pressure on Madden to discuss his own sexuality.
However, Madden, who has been known to swerve questions about his personal life and rumours that he was/is dating 13 Reasons actor Brandon Flynn, may be given a hall-pass on the basis that he could be LGBT+, but just not out.
Hey, if gay rumours are going to foil his chances at Bond, he may as well get some benefits too.
But really, this is what Hollywood's closet needs to realise; that being in the closet certainly offers you opportunities, but in 2019, so does coming out of it. And in our opinion, it's far cooler to be Marvel's first gay superhero than it is to be another cis, white, heterosexual James Bond.