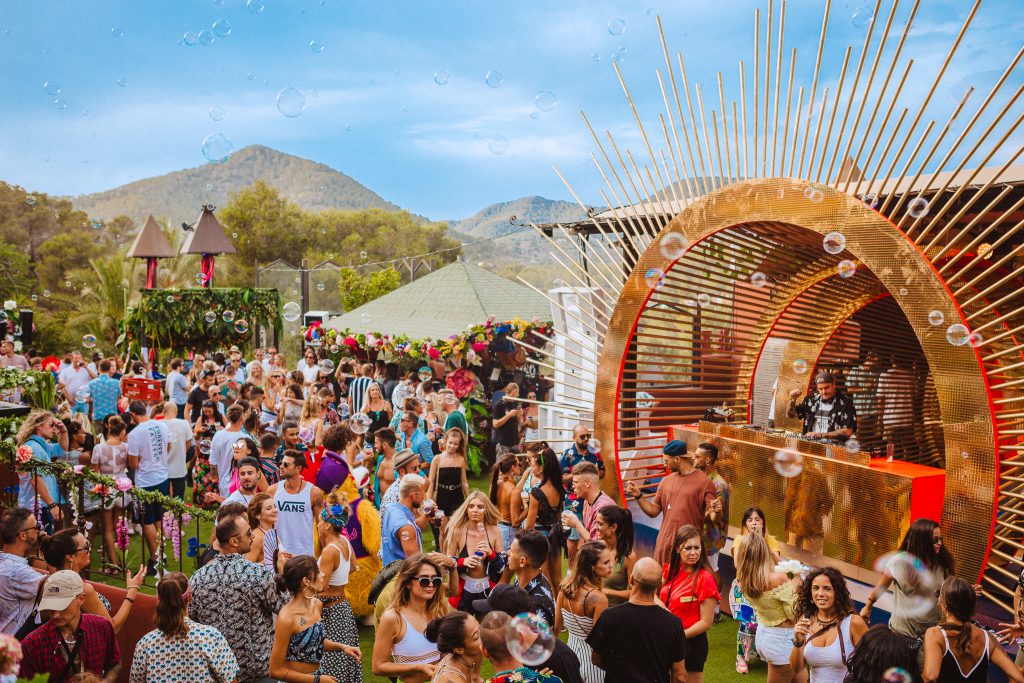 If there's one thing we've learned about making friends over the years, it's that the easiest way to do that is in a smoking area filled with strangers tipsy on vodka. So it kind of makes sense that clubbing king elrow would team up with Absolut to bring colourful outdoor festival, The Gardenarium, which aims to 'unite people on the dance floor'.
Last week, the two brands themselves united, to put on a unique immersive 12-hour party in Ibiza. The kind of which hasn't really been seen on the white isle before; one that asks guests to celebrate humanity and imagine a world without borders. Which again, is perfect for the rave, because who won't talk to literally anyone at 4am?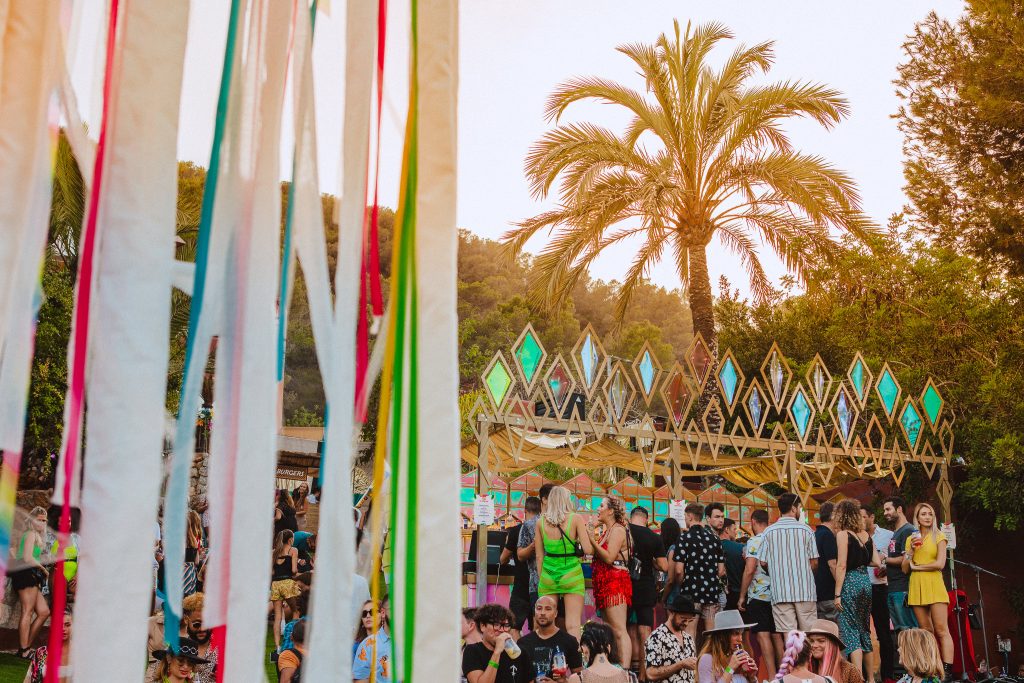 elrow – which have become infamous for their extravagant parties across the world – and Absolut – an important LGBT+ ally – crafted a fantastical wonderland that would leave even Alice tripping balls; up in the hills of Ibiza, Mad Hatters teetered on stilts, blowing bubbles and reading fortunes and building houses out of giant playing cards. Guests could spin a wheel of fortune, take part in semi-nude art drawing, and drink from a fountain of youth (which just FYI, totally works! I had TWO drinks just six days ago and now I'm booked in for botox! MAGIC!)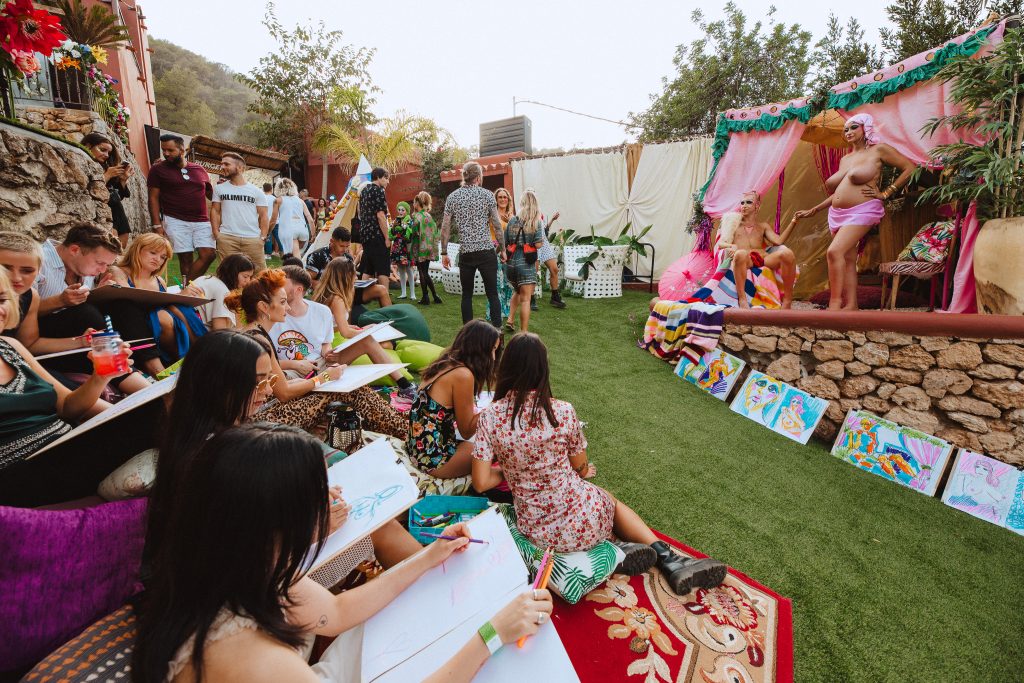 Then they invited DJs from all around the world, including LGBT+ party Horse Meat Disco. With the eclectic line-up, (which also saw Seth Troxler, Hot Chip and Gideon), ravers exerted most of their energy under a never-ending exploding confetti canon while being blasted with fog machines. If it all sounds like a lot; it was. Like when you think you're sensory organs are going to multiple-orgasm because there's so much visually pleasing shit going on.
Although there are a handful of queer parties in 'Beefa: you've got SupermartXe, (which was ironically hosting a Pussy Car Wash, the last time I attended half a dozen years ago), Glitterbox (the cute weekend kiki at Ushuaia), La Troya (which was previously wedged out of superclub Amnesia and into the notably smaller Heart), and of course, the gay bars in Ibiza Old Town, but what's distinctly lacking across the board is inclusive unity; parties where genders and sexualities and races and colours aren't embedded in the party's image.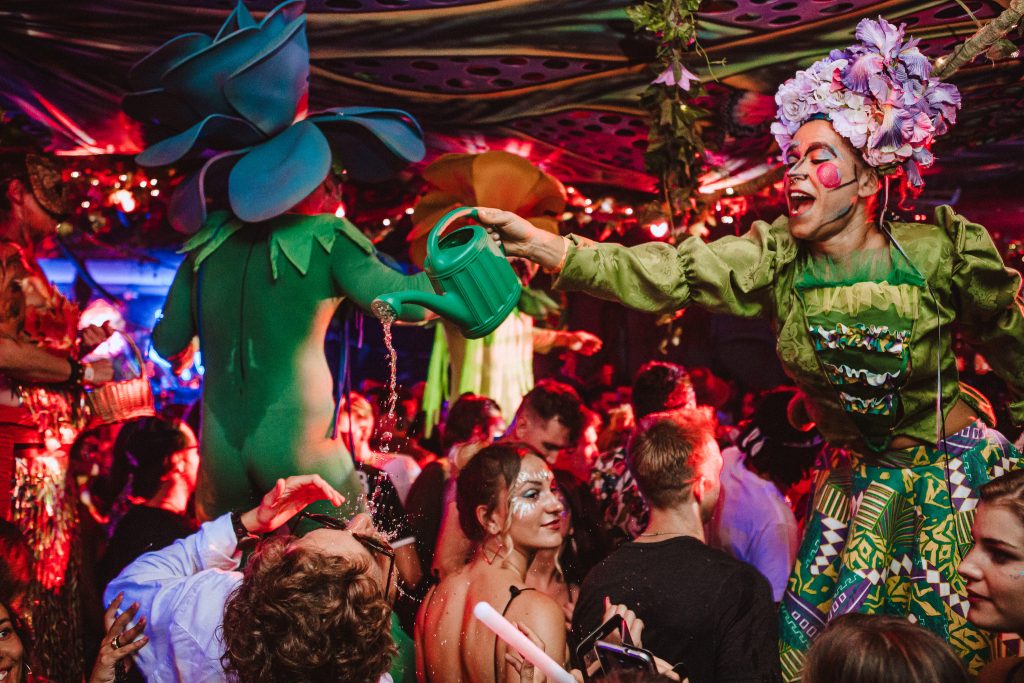 The Gardenarium attempts to abolish that. And as queer spaces around the world are continually threatened, (we're currently awaiting the closure of London's XXL), what LGBT+ people need more of, are parties; and not just parties to meet and engage with other queer people, but to meet and engage with all kinds of people. And in 2019, the merging and acceptance of one another – as humans – is the message that matters.
If this is the future of clubbing – we want back in! With Absolut hosting Pink Cathedral experiences at elrow Town, Antwerp (6th July), Edinburgh (27th July), London (17th August) and Amsterdam (7thSeptember). Tickets selling FAST!
[Photos: Luke Dyson]