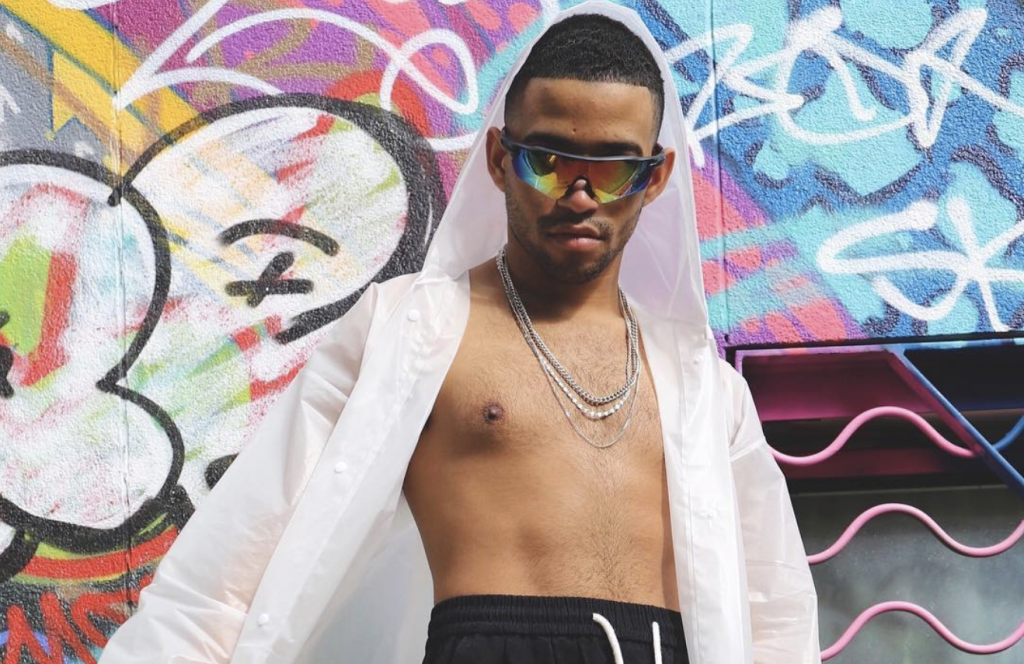 We're always hoping that a gay rapper will break into the industry, and Lordin's future looks bright enough to do that. Hot on the heels of his first debut Hold Hands, and ahead of his live London performance at PHAT, we spoke to the 21-year-old about musical influences and growing up gay in London.
What's been your own experience of growing up gay in London?
Growing up gay in London definitely wasn't easy for me. It's interesting because all my friends that are gay but live outside of London are always surprised as they expected it to be a lot easier. However, it actually took me a long time to figure out who I was.
In my high school, homophobic jokes were thrown around constantly and I grew up thinking it was a negative thing and it forced me to keep it secret. I think school is hard enough and I didn't want to be picked on or targeted even more. It wasn't until I moved to a performing arts school that I felt truly comfortable to be who I was. Being around like-minded people from all different backgrounds really inspired me to be myself and I think for the first time, I felt really accepted.
I also wasn't sure how my family would react. I think that was the hardest part for me as you hear so many stories about families turning away or even disowning their children. Even though my family unit is very close and open, you just never know. Luckily for me, they were extremely loving and accepting.
How would you describe your sound?
My first EP was an R&B/Pop sound which I thought, musically, was the direction I would go in. Since writing Hold Hands however, I'd say my direction has definitely changed. Now, my sound is a rap/singing style with a catchy hook. I'm always keeping my options open though because I love so many different styles of music and eventually I'd love to write ballads, pure rap songs, pop songs, I also plan to write for other artists too.
We've been waiting for a queer rapper to break into the game, why do you think it hasn't happened yet?
I think in the UK specifically, the rap/grime scene is taking over the charts and the industry, which is amazing. For an artist to come out as gay in any genre is hard enough because of the pressures you could face. So to break as out as gay in a genre that appears to be full of straight, alpha males mainly in the black community is intimidating and not something seen before. It's the same in anything though, doing something you haven't seen other people do before is daunting, but you have to take that risk to make room for future artists wanting to do the same and to create your own lane. This is why it's inspiring to see UK artists such as Olly Alexander, Lady Leshurr and MNEK do their thing so openly.
Your debut single 'Hold Hands' is an equality jam, tell us ALL about this…
For this single, Hold Hands, I wanted to write a song that had a strong, clear message, but I wanted to deliver it in an unusual way. I also wanted to make it clear through the song that am confident in who I am and to make other people feel the same. If you'd asked me a few years ago, I don't think I would have felt comfortable enough to put this song out.
Writing the song in a rap style was definitely a choice because the content and genre don't usually go hand in hand. I wanted to explore making a positive out of a negative situation (being abused for holding hands on the street). The video hopefully empowers people to feel comfortable to love who they want and be proud of it no matter what background or where you're from. The key themes are confidence, staying true to who you are; there is always going to be ignorance out there but you have to stay proud and not to live in fear.
Now seems like the perfect time for such a feel-good inclusive anthem – was that intentional?
Initially, I wanted to write a song that I felt super passionate about. I was watching live performances and came across Ray BLK performing My Hood at the MOBO awards, the passion in her performance was inspiring and almost straight away I started writing Hold Hands. It came so naturally, addressing scenarios I had very recently been through myself. It was only until I released the video that I realised how strong the message was. With everything going on in the world right now, it seemed completely suitable to release such a powerful, honest song.
What can we expect from your debut performance at PHAT CLUB next week?
I'm going to be performing Hold Hands and my next single. It's gonna be a lot of fun! It's my first night at PHAT club, but I've heard amazing things so I know they're going to be such a welcoming audience!
And finally… Who would you most like to collaborate within the industry?
I have so many! Well, I'm a big fan of female rap and the UK scene right now, so Ms Banks, Lady Leshurr, Stefflon Don, Lioness and RAYE. Ultimate collab would be Nicki Minaj.
Lordin will perform on April 26th at P.H.A.T Club, Beach Blanket Babylon, in Shoreditch, London. I'm also hosting the VIP takeover that night, so make sure you come and say HAY!