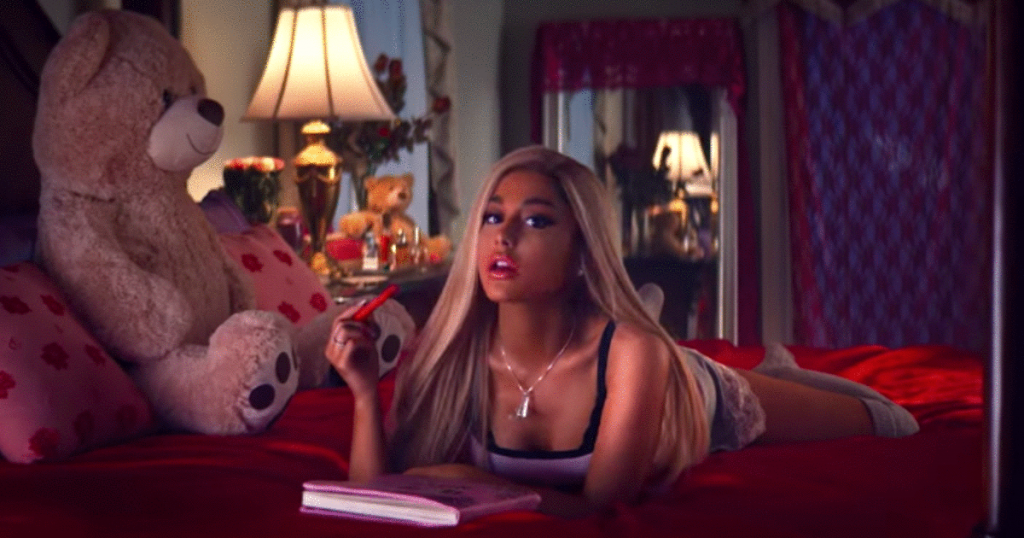 A 'writer' has surely broken a number of bones while reaching for a valid point in a piece that slams Ariana Grande's 'Thank U, Next' video for racism, transphobia and anti-queerness. The backlash to which was so strong, Into had to remove the writer's name over death threats.
The op-ed – or as we've coined it, reach-piece – made a number of strong accusation based on extremely minimal evidence. It claims that Troye Sivan's line regarding Ariana being a lesbian was in reference to Apple Music mistranslating her lyrics from Ari to Aubrey; which it was. But the writer goes on:
"She was so offended at the very thought of having a woman as her lover, she even addressed it at the very beginning of her music video." No girl, in this Mean Girls confessional rumour segment, it was simply just a reference to a rumour which was made about her.
The writer also claimed that "Queer people are apparently glad to be disrespected so long as it's by someone as popular as Ariana," regarding her pushing Sivan into lockers. But yeah… she's playing a bully. Duh.
She then goes on to talk about Ariana's 'blackface', which any fan of the singer will have recognised as her signature heavy tan. Before reaching peak overanalysis when it comes to the cheerleading outfits:
"Her rival cheerleading team, which is all Black, dances in Pan-African green, gold, and red in tribute to Bring It On's East Compton Clovers". ]
They're really just the colours used in the film.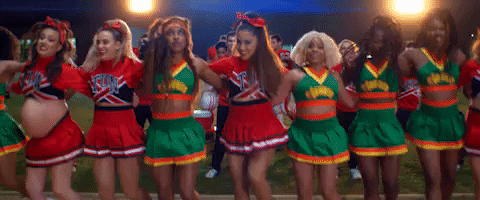 "While the outfits are identical to those used in Bring It On, the important points of the cult film (such as cultural appropriation and solidarity) are lost. Ariana and her team are not explicitly seen as villains or anti-heroes but rather the protagonists".
Or perhaps Grande was aiming to create a scenario where black women and white women ultimately don't compete, but rather support each other – as women.
The writer then uses Jennifer Coolidge and Grande's chat about penises teeth to push her 'anti-queerness' view. 'Big teeth' in this instance are a reference to Pete's wang.
"But have you ever gone out with someone that had no teeth at all?" ask Coolidge.
Clearly creating humour by switching the conversation from todgers to (actual) teeth. Something the writer believed was symbolism for lesbianism, writing that Ariana "emphasizes her heterosexuality as a point of pride and empowerment".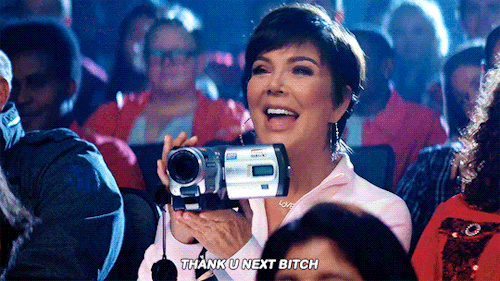 And as the article draws to a close, the writer arrives at her biggest reach so far, regarding Kris Jenner's closing line.
She simply shouts "Thank you, next, bitch!" while holding a camera – the final line of the music video. As "bitch" is generally directed at women and "thank you, next" is in reference to relationships, this is likely aimed at Caitlyn Jenner. She divorced Caitlyn in 2015 shortly after her transition. Perhaps this is in reference to Caitlyn's far-right politics. Perhaps it's a jab at her trans identity.
GIRL. This reach-piece was so out of control, Drag Race's the VIXEN even commented to say it was bat-shit.
Ok, this is ME in all my "me-ness"…saying this is a reach. https://t.co/wRb2B2tPKs

— The Vixen (@TheVixensworld) December 3, 2018
A number of Twitter users urged Into to just "take it down" due it's bad reflection of the queer community and damage to Ariana's brand labelling her as misogynistic, transphobic, anti-queer and racist.