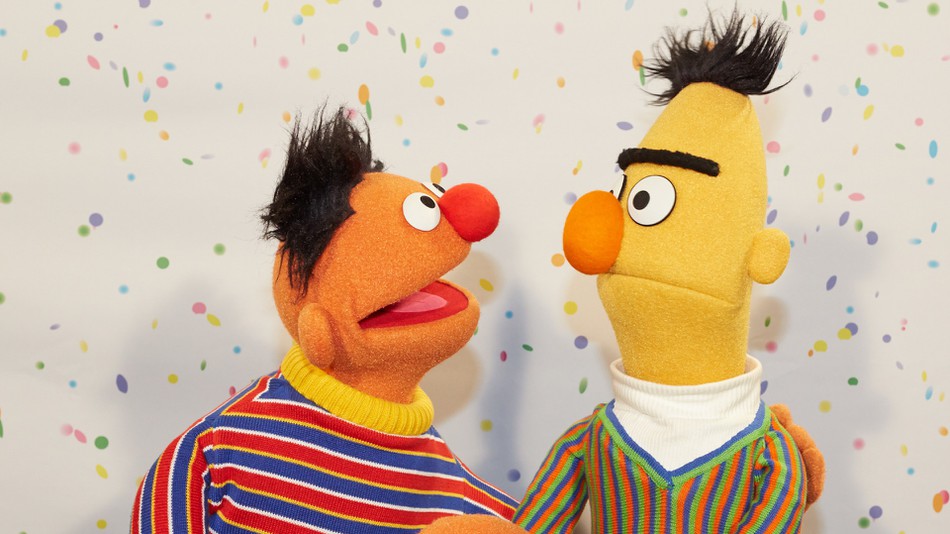 Earlier this week, Sesame Street writer Mark Saltzman confirmed a long-debated theory; whether Bert and Ernie were a little more than just friends. He told Queerty how even a pre-schooler picked up on the issue:
"I remember one time that a column from The San Francisco Chronicle, a preschooler in the city turned to mom and asked, "are Bert & Ernie lovers?" And that, coming from a preschooler was fun. And that got passed around, and everyone had their chuckle and went back to it. And I always felt that without a huge agenda, when I was writing Bert & Ernie, they were. I didn't have any other way to contextualize them.
Well, now the bigwigs at Sesame Street are denying that the puppet pair is any more than friends. You know, because they're puppets.
"As we have always said, Bert and Ernie are best friends. They were created to teach pre-schoolers that people can be good friends with those who are very different from themselves. Even though they are identified as male characters and possess many human traits and characteristics (as most Sesame Street Muppets do), they remain puppets, and do not have a sexual orientation."
Please see our statement below regarding Bert and Ernie. pic.twitter.com/6r2j0XrKYu

— Sesame Workshop (@SesameWorkshop) September 18, 2018
Well, I think, to most humans, we can recognise that Bert and Ernie are indeed puppets, and therefore aren't actually tossing each other off behind Oscar The Grouch's trash can. Just like how – as puppets – they're not actually grabbing a couple pints and watching the footie game down the pub.
As puppets, they can be as much lovers as they can friends. Not to mention that Miss Piggy and Kermit (both puppets) were quite clearly a couple. And Oscar had an obvious side-bitch.
They then released another – very similar – statement, which repeated the rehearsed mantra about children learning acceptance.
"Sesame Street has always stood for inclusion and acceptance. It's a place where people of all cultures and backgrounds are welcome. Bert and Ernie were created to be best friends, and to teach young children that people can get along with those who are very different from themselves."
It's quite clear that the producers of Sesame Street have the deludedly dreaded fear that children learning that gay couples exist will turn them gay. Which would explain why they have the limited intelligence to produce nothing more than a puppet TV show for 4-year-olds.
Although, I think perhaps on some level they realise that TV shows don 't make people gay, but encourage gay children to live as their authentic self, but even so, it leads to the same unwanted outcome: more gay people. Their thinly-veiled attempt to divert their homophobia to acceptance and diversity, is quite frankly, at the level of a 4-year-old.
And also let's just get this clear, Sesame Street did not create these characters… Saltzman did. Saltzman has already said that they were intended to be in a homosexual relationship, and so for Sesame Street to step forward and actively deny this, (rather than allowing his comment to pass by), demonstrates that they were probably keen not to offend the fellow homophobic parents of middle America.
A retraction that could only ever be bought by Trump supporters. And 4-year-olds.