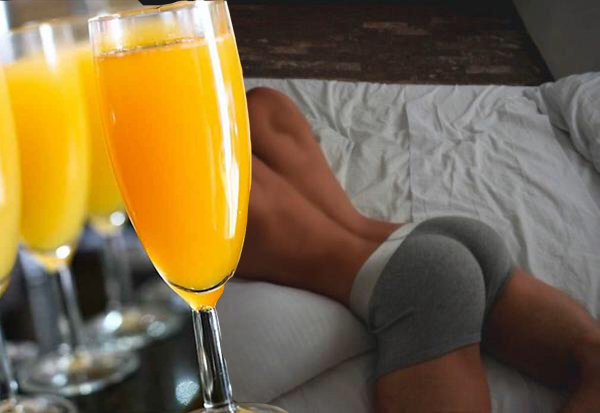 We're often told that the desirable woman for a man, is "lady on streets, freak in the sheets" (or something to that effect), well now you can combine the elegance of sipping a glass of champagne with the kink of rimming.
Bringing a whole new meaning to bottomless brunch, bouji gays are are swapping their mimosas, for rimosas; where one partner pours champagne (or Lambrini if you're from Bradford), into the other's butthole, before licking it out.
So instead of dragging your ass out of bed for brunch, then chasing dick around Sunday Funday, some clever queen decided to cut out the middle man.
It's all very Wild Things meets Weekend. And hey, if they happen to fart, you'll get a champagne fountain.
Rimosas are making their way into the sex lives of gay men and middle class white woman across UK and the US because they add a level of experimentation to their bedroom antics, but also allows participants to live a 'millionaire lifestyle', while snatching some Cava from Aldi. (The real millionaires douche with Laurent Perrier.
Kim Kardashian is always one step ahead of the curve…
Just don't try it at the Russian Tea Room.