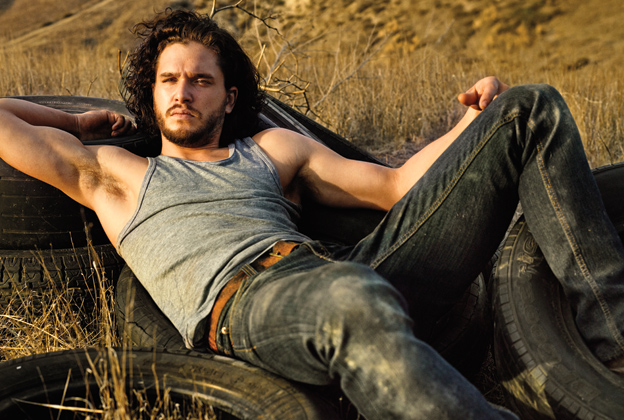 Game Of Thrones is adorned by fans worldwide – and we're sure it's not just because they give out sex scenes like milky buttons. Fans recently went into physical, mental and genital meltdown as writer's scripted the pants off fan fave Jon Snow, played by Kit Harrington.
Call us pervs, but we could've done with a little more than just a glimpse at his tooshie. But that may not be out of the question, as Kit discussed his ass-ets on the Jonathan Ross Show.
"When you die I want a cast of your buttocks and I'm gonna hang it above my bed," Wossy joked, although clearly replicating the sentiments of hundreds of thousands of girls and gays.
"But joking aside is it a bit weird that we've all seen your buttocks?" Jonathan asked.
"Not really," Kit responded. "I'll get them out for anyone!"
SO YEAH, WE'RE WAITING. Spread 'em while you're at it, sonny Jim.
We're assuming the shows producers understand what a great opportunity this is to get Jon Snow's schlong out…
[H/t: Fleshbot]