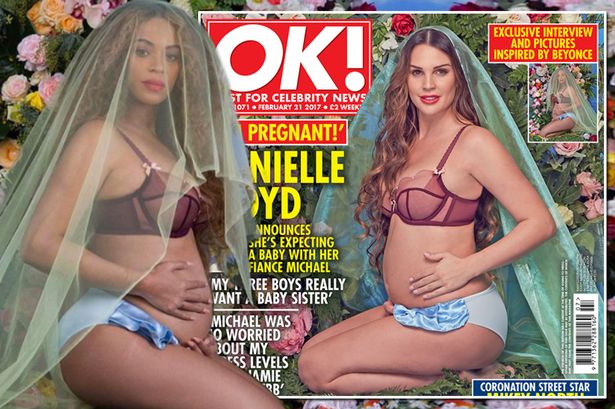 Word on the street is that Queen B is quivering in her throne as Danielle Lloyd prepares to snatch her crown, after already snatching her visual concept. The Page 3 model, stepped directly in the footsteps of Bey's twin-pregnancy announcement when she announced one of her own, with a Beyoncé copied inspired shoot. Danielle posed on the cover OK! magazine, but it seemed to have more of an "OK, then…" reaction.
The shoot has infuriated the BeyHive, with comments like "Is she ok though? Who told her to do this?" But we've heard that Beyoncé is quaking in her boots that Lloyd might Run The World. I mean, let's just take a look at some of their stats:
Beyoncé may have sold over 20 million records to date, but Danielle Lloyd got punch-fucked by Jamie O'Hara. Beyoncé can fake a pregnancy, but most of Danielle is fake. And what's 22 Grammys compared to flopping out your punani on the cover of Nuts Magazine?
And what with serious BEEF brewing between Lloyd and A-listers Nicola McClean and Aishleyne Whoregan-Whatthefuck, it's clear to see why Bey's team are in serious talks. The rumour mill at Danielle's camp suggests the former glamour-model is set to release a surprise video album 'Lambrini' this summer, which will focus on Blacklist Empowerment; giving a voice to those that have been blacklisted from Mayfair nightclubs for brawling like premenstrual hyeignas.
This looks set to be one fierce battle, and with Danielle's vocal range and steel knuckles, Knowles better know herself…